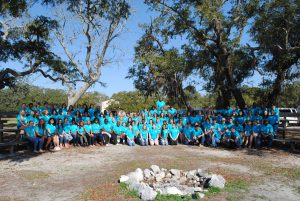 Join us for our 3rd annual Northwest District Teen Retreat at Camp Cherry Lake February 16-18th.  This leadership event is planned by senior 4-Hers for youth ages 13 and up.  This year's theme is: 4-Hers Guide to an Apocalypse.  Participate in workshops, funshops, service projects, lipsync contest and more while making new friends and building your leadership skills.
Registration is $75.00/person before February 1st.  After that, there is a $25.00 late fee (and a t-shirt is not guaranteed).  Register online at http://florida.4honline.com.
Questions?  Contact your local UF IFAS County Extension Office.
Service to communities is a huge part of 4-H.  Last year, our teens collected items to make 150 chemo kits for cancer patients.  This year, we will be making Hurricane/Disaster Bug Out Bags.  Check out this video of last year's project!