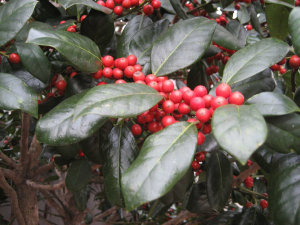 Photo by Sydney Park Brown UF/IFAS
Holly has been considered sacred in some cultures because it remained green and strong with brightly colored red berries no matter how harsh the winter, even when most other plants would wilt and die. According to Druid lore, hanging the plant in homes would bring good luck and protection.
Later, Christians adopted the holly tradition from Druid practices and developed symbolism to reflect Christian beliefs.  Today, the red berries are said to represent the blood that Jesus shed on the cross when he was crucified.  Additionally, the pointed leaves of the holly symbolize the crown of thorns Jesus wore on his head.
Several holly species are native to Florida.  Many more are cultivated varieties commonly used as landscape plants.  Hollies (Ilex spp.) are generally low maintenance plants that come in a diversity of sizes, forms and textures, ranging from large trees to dwarf shrubs.
The berries provide a valuable winter food source for migratory birds; however, the berries only form on female plants.  Hollies are dioecious plants, with male and female flowers on separate plants.  Both male and female hollies produce small white blooms in the spring.  Bees are the primary pollinators, carrying pollen from the male hollies 1.5 to 2 miles, so it is not necessary to have a male plant in the same landscape.
Several male hollies are grown for their compact formal shape and interesting new foliage color. Dwarf Yaupon Hollies (Ilex vomitoria 'Shillings' and 'Bordeaux') form symmetrical spheres without extensive pruning.  'Bordeaux' Yaupon has maroon-colored new growth.  Neither cultivar has berries.
Hollies prefer to grow in partial shade but will do well in full sun if provided adequate irrigation. Most species prefer well-drained, slightly acidic soils.  However, Dahoon holly (Ilex cassine) and Gallberry (Ilex glabra) naturally occur in wetland areas and can be planted on wetter sites.
For a more comprehensive list of holly varieties and their individual growth habits refer to ENH42 Hollies at a Glance: http://edis.ifas.ufl.edu/mg021