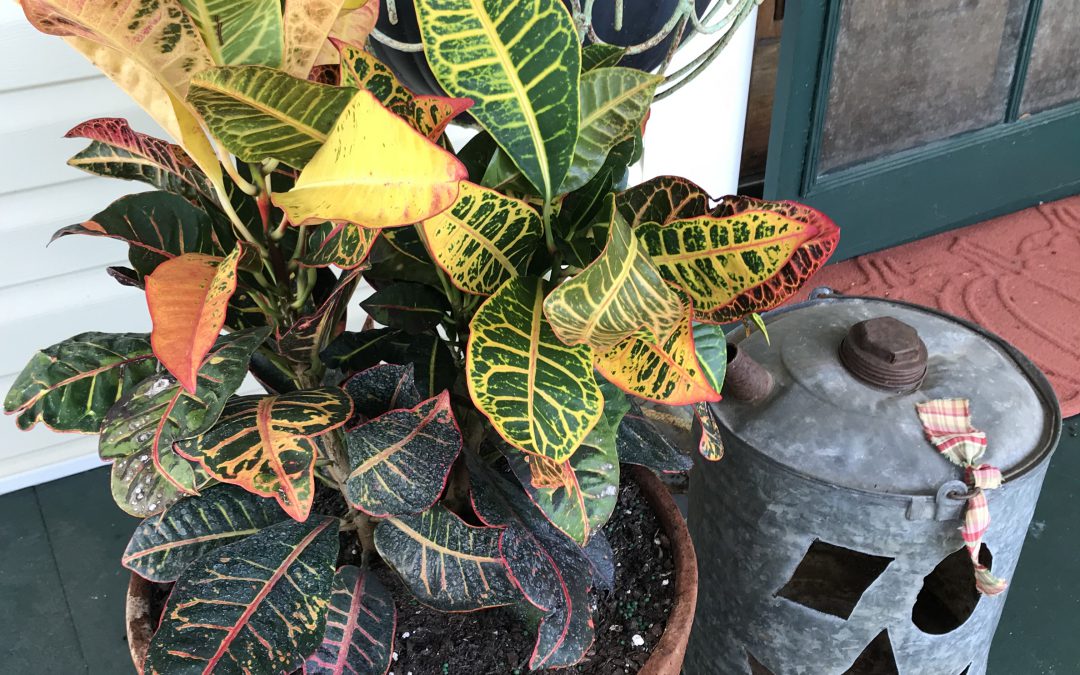 Florida is known for many things, however sweeping vistas of hillsides covered in the orange, red, and yellow foliage of fall is not one of them.  Our long, hot summers and short, cool (not cold) winters, and lack of anything of substance resembling a season in between, precludes the fall color show our neighbors to the north enjoy.  Don't settle for synthetic Halloween decorations or faux painted leaves to add festivity to the autumn landscape design.  When football season kicks off and summer blooming annuals begin to fade, it's time to reach into the horticultural toolbox and pull out a couple fall-y Florida Friendly annual foliage species, perfect for the balmy Panhandle "autumn": 'Alabama Sunset' coleus and 'Petra' croton.
The first plant to consider when looking for outstanding heat tolerant foliage is the common coleus (Solenostemon scuttellarioides), particularly the cultivar 'Alabama Sunset'.   As the name indicates, 'Alabama Sunset' offers leaves in shades of red and yellow, perfect for designing fall containers or mixing into planting beds.  This popular summer annual is known for its ability to add interesting color and texture to shady areas.
Recently with the arrival of the 'sun coleus' series (to which 'Alabama Sunset' belongs), coleus is permissible in situations with greater sunlight.  Coleus is incredibly easy to grow and easy to find since nearly every nursery stocks at least a few cultivars.  What's more, these plants are generally free of pests and disease problems!  Even sun coleus does appreciate a little protection from the hot afternoon sun and occasional deadheading of flowers.
The second plant in the fall foliage arsenal is 'Petra croton' (Codiaeum variegatum 'Petra').  Primarily known as a tropical foliage or indoor houseplant, Petra croton is criminally underused in fall landscape and container design.  Petra croton sports bold magnolia-sized leaves striped with colors of yellow, red, orange, and black. A great Halloween plant to complement those front-porch Jack-O-Lanterns!
Like coleus, Petra croton is extremely easy to grow either in a container or in the ground.  It should be located in either in full sun or partial shade and watered through establishment. Otherwise, this species is quite drought tolerant and can be killed with kindness if watered too frequently!
Although croton is a perennial shrub in the tropics, in Northwest Florida it may be killed by frost and best treated as an annual.  Croton can be expected to reach 30-36" in height in a single season, its size and the boldly colored foliage make it a true focal point in the autumn landscape!
Appalachian-grade fall color may be unattainable in the Panhandle in the literal sense, but with these novel plant selections the autumn mood may be present even as the emerald waves hit the sugar white sand.  By using annual foliage plants that possess traditional fall colors throughout their life cycle, anyone can add a splash of Autumn to their mixed containers or landscape beds.  'Alabama Sunset' coleus and 'Petra' croton are the perfect match for this time of year, pairing ease of culture with bold, seasonal color.  Plant a couple today!