Variety selection is one of the most important decisions a cotton grower will make, and continues to be a yearly struggle since the loss of "triple nickel" (DPL 555), a very popular and top performing variety.
The new varieties, however, are excellent, leading the cotton industry into record breaking yields the past two years. Still, no one variety stands out as a clear and obvious choice for every situation, nor is that likely to ever happen. Thus, growers must use every tool available to them to make their decision, including variety test data and doing their own on-farm variety tests.
Below are some of the results from University of Florida strip till cotton variety trials conducted by Dr. David Wright, UF/IFAS Agronomy Specialist, that may help you with your variety selection decisions.
Large Plot, Strip Till
This trial was conducted on-farm in Jefferson County, Florida, with a heavy rye cover crop under non-irrigated conditions. Results are shown from 2012 and 2013 (M.H. Douglas, G.K. O'Brien, J.J. Marois, D.L. Wright).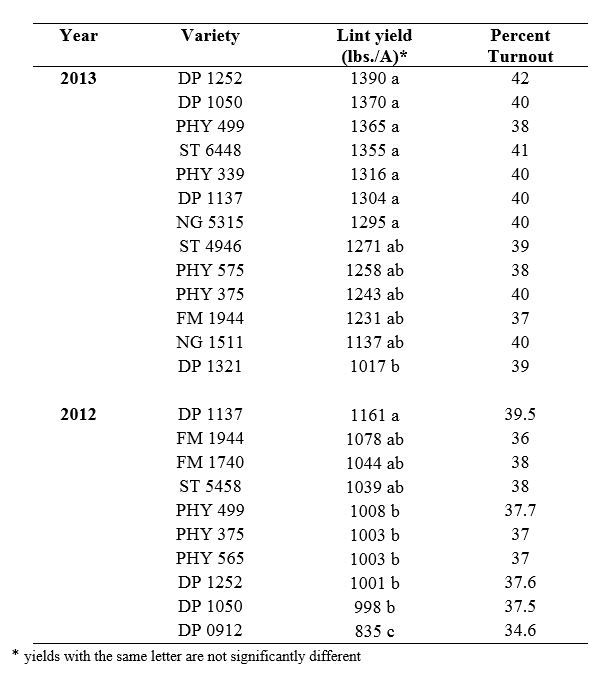 Small Plot, Strip Till
A 5-variety, small plot trial was conducted in 2012 and 2013 in Quincy, Florida at the North Florida Research and Education Center (M.H. Douglas, G.K. O'Brien, J.J. Marois, D.L. Wright).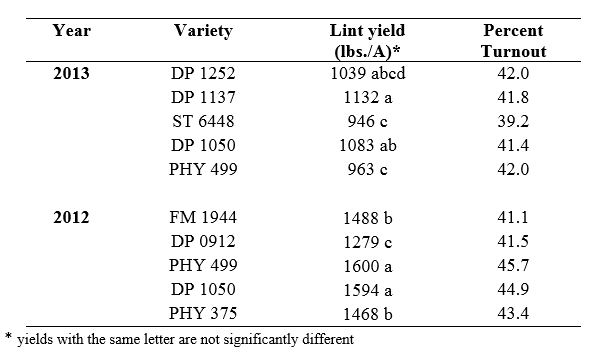 For additional information on cotton variety selection and testing, contact your local UF/IFAS Extension Agent or see the links below for UGA on-farm variety testing and Official Variety Testing (OVT) results.