Nominations will be accepted for the 2017 Florida Bull Test from May 1through June 15, 2017.
The Florida Bull Test is the only test in the southern United States that offers feed efficiency data on the bulls consigned, through the Feed Efficiency Facility using the GrowSafe System at the UF/IFAS Beef Research Unit near Marianna. The purpose of the test is to standardize environmental conditions for evaluating post-weaning performance and to provide records which should be useful to the consignor, in evaluating his/her breeding program, and to the buyer as a source of performance-tested bulls.
Bulls in the program have the opportunity to be consigned to the sale, which will be held on January 20, 2018 at the NFREC-Marianna, or ownership can be retained by the consignor. Purebred or full blood bulls born between August 15 and December 31, 2016 are eligible for nomination. In addition to other performance related regulations that are defined in the Rules and Regulations.
T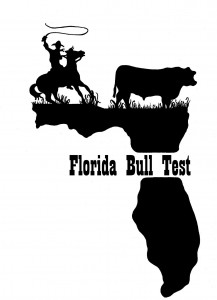 his year will be the 18th Florida Bull Test, which is conducted at the University of Florida's North Florida Research and Education Center in Marianna.  The test is under the direction of Dr. Nicolas DiLorenzo, who has been involved with the program for the past 7 years. There were 129 consignments from 33 consignors from Florida, Alabama, Georgia, and Mississippi that participated in the 2016 Florida Bull Test.  There were 59 Angus, 3 Brahman, 10 Charolais, 7 Hereford, 32 SimAngus, and 18 Simmental consignments. At the completion of the test, the entire group of bulls averaged 3.32 pounds of gain per day, ranging from 1.85 to 4.73 pounds per day.
The Florida Bull Test is an Extension Program coordinated by the UF/IFAS faculty and staff at the North Florida Research and Education Center in Marianna, in conjunction with the Jackson County Cattlemen's Association. The live and internet-based auction follows intensive quality testing of the animals by UF/IFAS faculty and staff and is produced with the objective of enhancing the quality of cattle herds in the region.
For more information on the Florida Bull Test, visit the web page at http://nfrec.ifas.ufl.edu/florida-bull-test/ or telephone 850-526-1621.