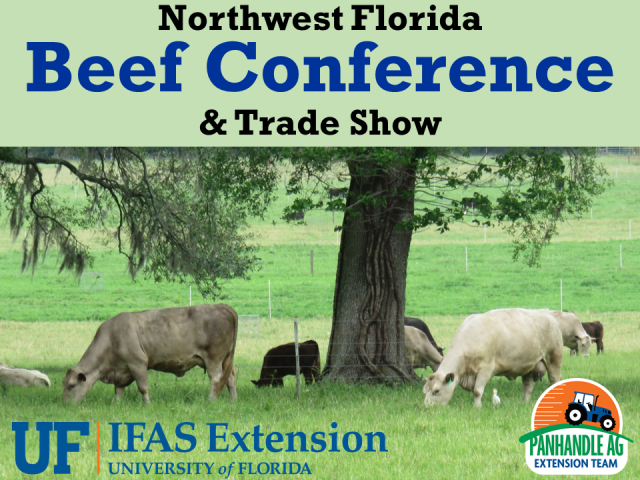 Cattle ranchers, employees, and their family members are invited to attend the 33rd annual Northwest Florida Beef Conference and Trade Show, to be held on Wednesday, February 14, 2018, at the Jackson County Extension Office, located at 2741 Penn Avenue, Marianna, Florida. Registration and the Trade Show open at 7:30 AM central time, the program starts at 8:15 AM, and concludes with a steak lunch. There will be a $5 per person registration fee, payable at the door.
With the U.S. beef herd still in expansion mode, cattle prices are not expected to improve in 2018.  With that in mind, the presentations at the conference will focus on Fine-Tuning Management to Maintain Profitability.   Nick Simmons, Escambia County Extension Director will discuss where to begin this fine-tuning process.  Ryon Walker, Livestock Consultant, Noble Research Institute, will be the keynote speaker.  He will discuss work he has done consulting with ranchers to improve cow efficiency.  Chris Prevatt, UF Livestock Economist, will provide a brief market outlook and a new spreadsheet tool he has developed to help ranchers file their income taxes and, more importantly, do simple ranch analysis to fine-tune their management.  Kim Mullenix, Auburn Beef Specialist, will share the results of hay and baleage research in Alabama, and provide suggestions for efficient production of stored forages.  Nicolas DiLorenzo, UF Beef Specialist will be sharing a new spreadsheet tool he has developed to help producers select supplemental feeds based on hay test results.
In addition to the educational program, the Beef Conference will also feature a Trade Show of businesses and agencies that offer goods and services to cattle producers. There will be time allotted on the schedule to visit with the company representatives in the Trade Show to learn about specific products and services they offer for cattle producers in this region. If you or your organization would like to be a sponsor and participate in the Trade Show, go to the Eventbrite registration site:  https://2017nwflbeefconftradeshow.eventbrite.com
—
The Northwest Florida Beef Conference and Trade Show is an educational program provided by the UF/IFAS Panhandle Agriculture Extension Team. For more information on the Beef Conference, contact Doug Mayo, at 850-482-9620, or demayo@ufl.edu.
2018 Focus:

Fine-Tuning Management to Maintain Profitability
Schedule of Events (all Central Time)
 7:30 – Trade Show & Registration Opens

 8:15 – Welcome & Program Introduction

 8:30 – Fine-Tuning Management – Where to Begin?


———-

Nick Simmons, Escambia County Extension Director

 9:00 – Measuring Cow Efficiency in the Herd


———

Ryon Walker, Noble Research Institute

 9:45 – Trade Show & Snack Break

10:30 – Crunching the Numbers for Taxes and Analysis


———-

Chris Prevatt, UF/IFAS Livestock Economist


11:15 – Stored Forage – Hay vs. Baleage – Balancing Costs and Performance


———-

Kim Mullenix, Auburn Beef Specialist

11:45 – Supplement Selection Based on Forage Test Results


———-

Nicolas DiLorenzo, UF/IFAS Beef Nutrition Specialist

12:15 – Grilled Steak Lunch (thanks to JCCA Cooking Crew)

12:45 – 1:30 Trade Show Open
—