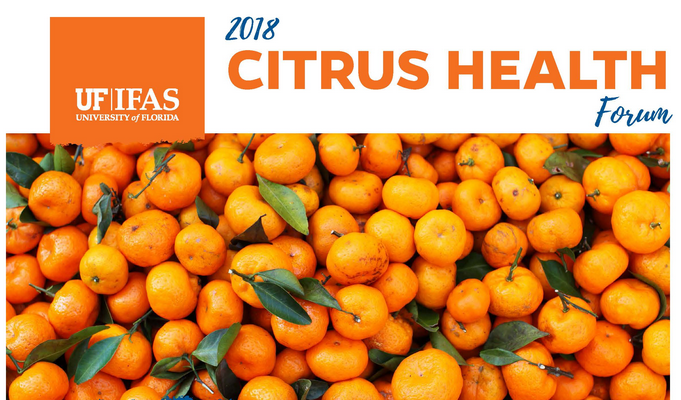 The faculty and staff at the North Florida Research and Education Center would like to invite citrus producers to the Citrus Health Forum, to be held April 19, 2018, at the UF/IFAS North Florida Research and Education Center, in Quincy, Florida.  Potential attendees of this meeting will include citrus growers, nursery owners, extension agents, and master gardeners.
With the continuous development of cold resistant citrus varieties, and improvement in freeze protection, there has been a significant growth in north Florida citrus. During the last decade, satsuma and cold hardy, fresh market citrus have generated more interest in north Florida than any other tree crop. There is a growing satsuma industry in the Florida Panhandle.  The satsuma acreage in Florida has increased substantially with 100 acres planted in Gadsden county alone, and more than 200 acres of citrus are now planted in Jefferson county.  Some new developments in North Florida include increased nursery production of satsumas and the establishment of an orange juice plant in Jefferson county.
The Citrus Health Forum will feature both young faculty from across the state, as well as experienced emeritus faculty. The subjects to be covered will include: distribution of Asian citrus psyllid in North Florida, management of scab and alternaria, and citrus frost protection.  Invited scientists renowned for their expertise in citrus pest and disease management, including plant pathologists, horticulturists, and entomologists from the Citrus Research and Education Center, Indian River research and Education Center, as well as Southwest Florida Research and Education Center will be sharing their experience and expertise.
Registration for the Citrus Forum is only $5 per person, payable at the door, and includes a coffee break, lunch and a tour of the Citrus Grove at the Station.  This educational event has been approved for 3 Ag Row Crop, or 3 Private applicator, or 3 Demonstration and Research CEU's.  Meeting location:  155 Research Road, Quincy, Florid.  Interested participants are asked to RSVP no later than April 18:  850-875-7105 or via email to Alexis Mote.
Agenda (All Times Eastern Time Zone)
Moderator: Dr. Xavier Martini, Entomologist, University of Florida/IFAS, NFREC, Quincy.
8:30 AM Registration

8:45 Opening Remarks – Glen Aiken, Center Director, University of Florida/IFAS, NFREC, Quincy.

9:00 Asian citrus psyllid management and situation in Florida Panhandle – Dr. Xavier Martini, Entomologist, University of Florida/IFAS, NFREC, Quincy

9:30 Management practices for citrus leafminer – Dr. Jawwad Qureshi, Entomologist, University of Florida/IFAS, IRREC, Fort Pierce.

10:00 Scab and Alternaria and greasy spot management – Dr. Ozgur Batuman, plant pathologist, University of Florida/IFAS, SWFREC, Immokalee.

10:30 Break

10:45 Agricultural and biological Engineering technology applied to citrus crops – Dr. Yiannis Ampatzidis, Ag engineering, University of Florida/IFAS, SWFREC, Immokalee.

11:15: Citrus Cold protection. Dr. Larry Parsons, Horticulturist, University of Florida/IFAS, CREC, Lake Alfred.

11:45 Cold hardy citrus varieties, Dr. Peter Andersen, Horticulturist, University of Florida/IFAS, NFREC, Quincy.

12:15 PM Sponsor presentation

12:30 Lunch

1:30 NFREC Citrus Orchard Tour

2:30 Cold Hardy Citrus Association meeting