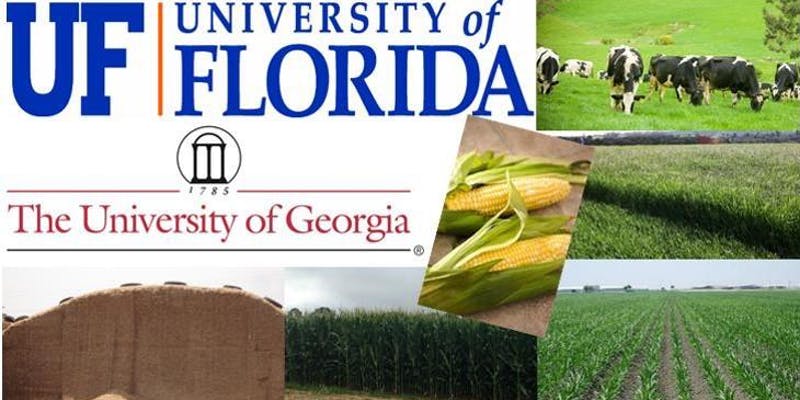 The University of Florida and University of Georgia's annual Corn Silage and Forage Field Day will be held May 24, 2018 at the UF/IFAS Plant Science Research and Education Unit – Citra, FL. The corn silage and forage field day is an extension education program promoted by the University of Florida and the University of Georgia that offers the latest educational techniques and resources for forage producers to improve forage yield, quality, and methods of forage conservation.
The program offers agronomic information on silage variety trials and extends knowledge on silage making, preservation, nutritive value, grazing management, and pest control in forages. This year's field day will bring experts from the University of Florida, University of Georgia, other Universities, and private consultants in the areas of forage management and cattle nutrition.  Certified Crop Advisor Credits available.
Agenda
7:30 AM – On Site Registration
8:00 – Welcome and Introductions -Dr. Geoff Dahl, Department of Animal Sciences, University of Florida
8:15-9:15 -Tour variety test plots
9:30-10:00 – Silage management to reduce losses and improve nutrient quality – Rich Bennek, Mycogen Seeds
10:00-10:30 – What we have learned about silage processing and nutrient digestion – Dr. Luiz Ferraretto, University of Florida
10:30 – 11:00 Break and Exhibitor Visits
11:00 – 11:45 Educational Stops

11:00 – 11:20 and 11:25 – 11:45 (Attend 2 of 3 presentations)

A. Pest Control: Pest management in silage: from planting to harvesting – Dr. Marcelo Wallau, University of Florida, Gainesville, FL.
B. Grazing Management: Combining legumes in grass – legume mixtures in pastures – Dr. José Dubeux, University of Florida, Marianna, FL.
C. Forage Quality: Opportunities for Alfalfa in the Rotation and in the Ration – Dr. Dennis Hancock, University of Georgia, Athens, GA.

11:45 -Visit exhibitors
12:15 – Lunch
1:20 Field Demonstrations Updating alfalfa and grass varieties for the Southeast, Dr. Esteban Rios and Dr. Marcelo Wallau, University of Florida, IFAS
RSVP through the Online Registration website.  This is a sponsored event, so there is no fee for participants.

Directions:  
Plant Science Research and Education Unit, 2556 West Highway 318, Citra,FL 32113, phone: 352-591-2678
From I-75 Exit 368, turn east on County Road 318, travel 3 miles to US 441, cross over and continue on CR 318 for 2 miles.
For more information, use the following event flyer link: