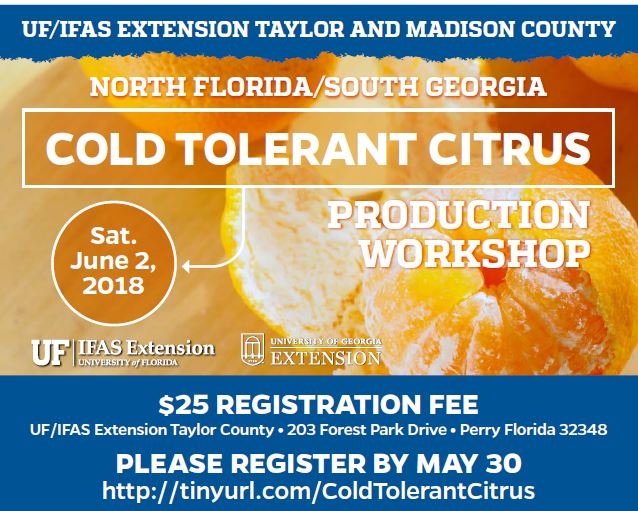 Please join Extension agents and specialists from the University of Florida and University of Georgia for a highly informative Cold Tolerant Citrus Workshop. The event starts at 8:30 Eastern at the UF/IFAS Extension Taylor County office in Perry, Florida.
The following topics will be covered:
Backing up your electric powered freeze protection: Mr. Arley Brillion, Mastery Engine Center, St. Petersburg Florida
Automating your irrigation, fertigation and freeze protection with air and soil moisture sensors: Doug Crawford, BMP Logic, Trenton Florida
Irrigation design for fertigation and chemigation: Dr. Charles Barrett UF/IFAS Suwannee Valley REC
Selling citrus – how do I get paid?  Mr. Adam Roe, W.G. Roe and Sons, Winter Haven Florida
Latest innovations in freeze protection: Kim Jones, Bethel Oaks Farm, Monticello Florida and Clay Lamar, 1 Dog Ventures, Georgia
Tour of Grams Legacy Grove in Perry, Florida: Andy Jackson
The workshop will include lunch and a tradeshow.  Please click HERE to register for the event.  For more information, contact Clay Olson, UF/IFAS Extension Taylor County at 850-838-3508 or Dan Fenneman, UF/IFAS Extension Madison County at 850-973-4138.