Cattle on Feed Report
On Friday, September 21st the monthly USDA-NASS Cattle on Feed Report was released. According to the U.S. Department of Agriculture the number of cattle and calves on feed (Feedlots with 1,000 head or more capacity) for the slaughter market in the United States on September 1st was 11.125 million head, 5.9 percent above Sept. 1, 2017. This is the largest September inventory since the series began in 1996. The monthly cattle on feed inventory not only increased year-over-year, but month-over-month with 32,000 more cattle on feed since the August 1st inventory report. Additionally, this is the fourth month in a row where a monthly record has been set for the number of cattle and calves on feed for the slaughter market. A twelve-month moving average of monthly feedlot inventories shows that, over the last year, feedlots have had the largest average feedlot total since 2007. Placements in feedlots during August totaled 2.07 million head, which was 7 percent above August 2017. Net placements were 2.02 million head. Marketing of fed cattle during August totaled 1.98 million head, slightly above the 2017 total.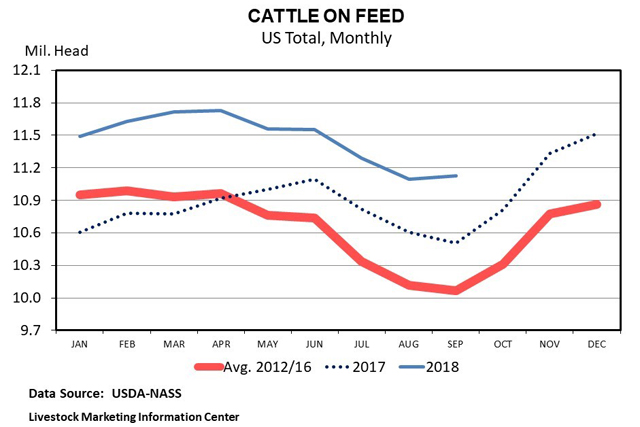 Keys for the Beef Cattle Market
The cattle on feed report did not create a positive short-term outlook, as it continues to provide bearish information for supply fundamentals. Beef production is on track to reach a record level of 27.1 billion pounds in 2018, up 3.6 percent year over year. For the year to date, beef production is up 3.0 percent year over year. However, fourth quarter beef production is expected to be about 4.0 percent larger than last year.
From the demand side of things, a strong domestic economy and robust exports have continued to support beef and cattle prices during 2018, against record large U.S. beef production and all-time highs in competing meats (pork and poultry). Packing business margins continue to be good. Therefore, packers have great incentive to keep processing as many head as possible to take advantage of margins. Good retail demand and packer margins will be needed to keep the market moving along at a good pace during the last quarter of 2018.
There are many unknowns and potential headwinds for cattle markets during the next 12-18 months. Any weakness in the domestic or global economy compared to the conditions of the last two years would dampen demand for beef and thus cattle. Therefore, two of the keys for maintaining prices moving forward will be for the U.S. economy and export markets to continue growing. These two factors will be challenged by the cycle of tariffs and retaliation. Futures markets may begin to react more aggressively to political announcements that may or may not materialize into price changes. Demand for U.S. beef is critical to the success of U.S. cattle producers. Export markets can take a very long time to materialize, but can be lost very quickly.
Latest posts by Chris Prevatt (see all)