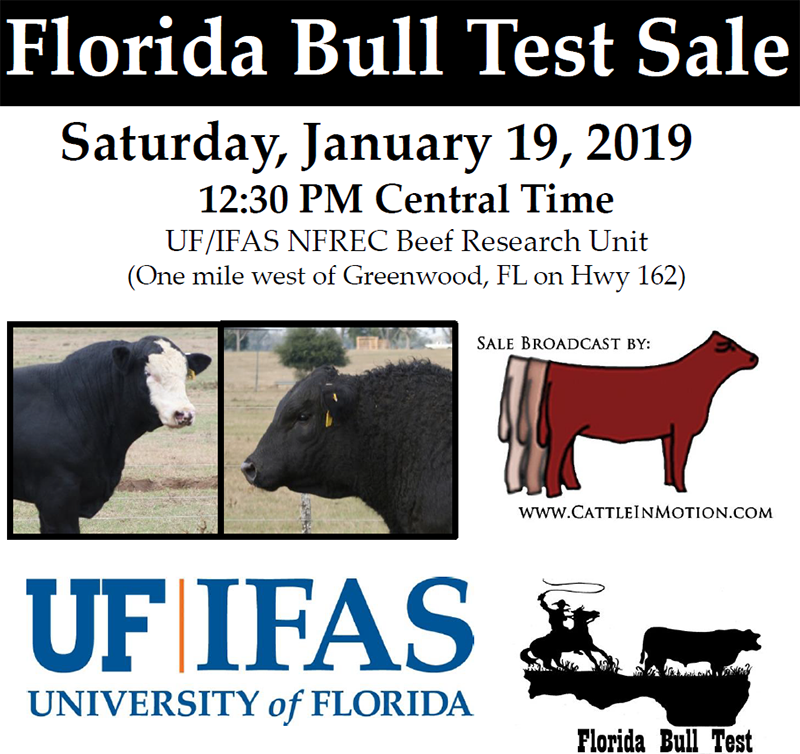 Southeastern cattle ranchers are invited to the 19th Annual Florida Bull Test Sale to be held on Saturday, January 19, 2019 at the UF/IFAS North Florida Research and Education Center (NFREC) Beef Research Unit. Offering 60-80 performance proven bulls of the following breeds: Angus, Brahman, Charolais, Hereford, Braford, SimAngus, Simmental, Simbrah, and Wagyu bulls consigned by progressive breeders from all across the Southeast.
Feed Efficiency Bull Test – All bulls have:
Daily individual animal feed intake recorded
Accurate animal weights used to determine individual animal feed intake and feed efficiency (G:F, F:G, and RFI).
Download the 2019 Bull Test Sale Catalogue for more details:
Register in advance for bidding through Cattle in Motion internet site (if you are not coming to the sale in person)
To access bull test data, download catalogs, directions or sale information go to the Florida Bull Test website  or more information:
Phone: (850) 526-1621
Sale Location
The sale will be held in the sale pavilion at the NFREC-Marianna Beef Unit, home of the Florida Bull Test. The Beef Unit/Bull Test is located 1.4 miles west on Highway 162 from the traffic light in Greenwood. The unit is 11.4 miles east of Highway 231 on Highway 162. From I-10, take Highway 71 north at exit 142, through Marianna to Greenwood (approximately 11 miles). An alternative for those coming from the east on I-10 is to exit at 152 at Grand Ridge and take Highway 69 to Greenwood. From Dothan, AL take Highway 231 south and turn left on Highway 162 (look for green bull test sign).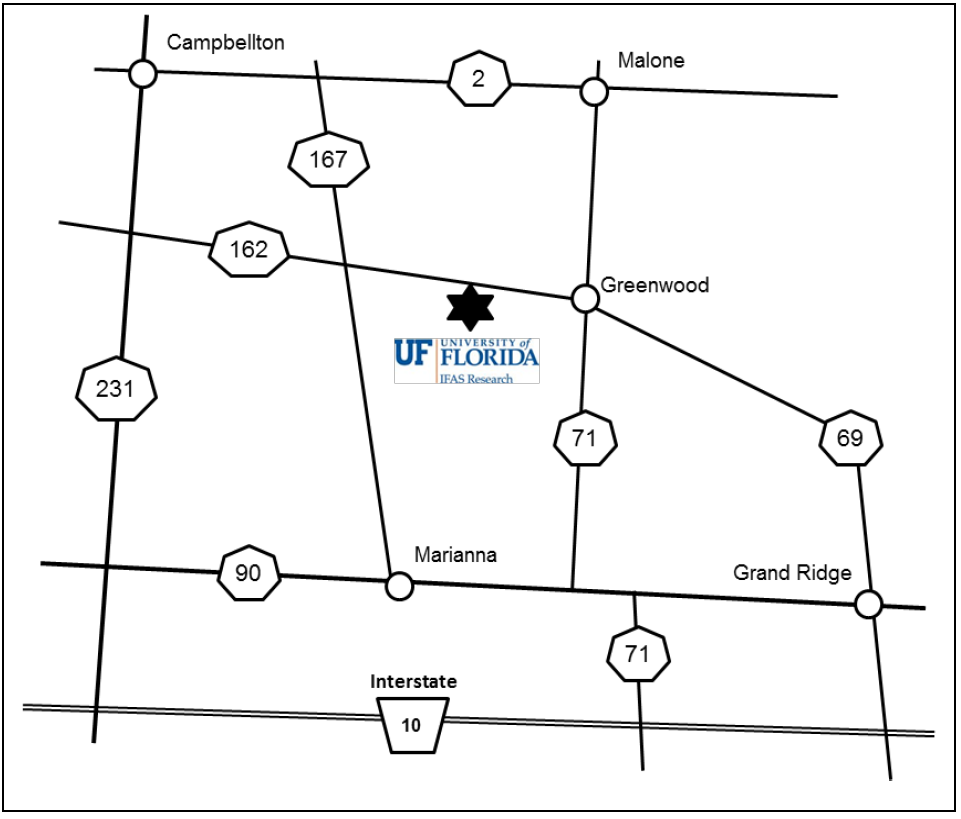 —
Florida Bull Test
The objective of the bull test is to evaluate the performance potential and breeding soundness of bulls consigned. This year was the seventh year in which individual feed efficiency was established on all bulls.  The Florida Bull Test consists of a 112-day performance test plus a breeding soundness examination on every bull that qualifies for the auction. Bulls arrive at the NFREC Feed Efficiency Facility, are sorted into contemporary groups, and moved into pens where bulls are adapted to soy hull and corn gluten-based diets and water for a three-week adaptation period before initiating the test. The bulls remained in the Feed Efficiency Facility for the first 56 days of test after which they were moved out of the facility to 3.25-acre pastures for the remaining 56 days of test. They received the same diet throughout the test. Animal performance, specifically average daily gain (ADG), was calculated using only the official starting and finishing test weights. Throughout the test, bulls were observed and screened for structural soundness and disposition. Bulls deemed to be structurally unsound or of poor disposition did not qualify for the sale.
In 2018, the bulls had an overall ADG of 3.35 lb/day. The average weight per day of age was 3.01 lb/day. Average daily feed intake during the first 56 days of test was 23.46 lb/day (on a dry matter basis) and average feed:gain ratio of 7.39 pounds of feed for every pound of gain.  A significant portion of the test is the inclusion of feed efficiency of individual bulls. To rank the bulls on feed efficiency we use residual feed intake (RFI), which is the difference between actual feed intake and expected feed intake. The more negative the number, the more efficient the bull. During this bull test the RFI of bulls ranged from -9.76 to 9.91 lb/d. Therefore, the most efficient bull consumed 9.76 lb per day less feed than expected for his gain. This equates to more than 3,000 lb per year less feed than that bull was expected to consume!
Our staff has worked hard to provide the best care possible for these bulls. We believe each bull has been given the chance to express his own genetic potential for performance and fertility. Thank you for making our sale stronger year after year. We look forward to visiting with you about the bulls either before or on sale day.