Taking the Next Steps to Salvage and Restore Forests and Natural Resources Impacted by Hurricane Michael
Date: February 12, 2019
Sign in at 9:00 am CST – Concludes at 5:00 pm CST – Lunch provided
Rivertown Community Church
19359 Highway 71
Blountstown, Florida 32424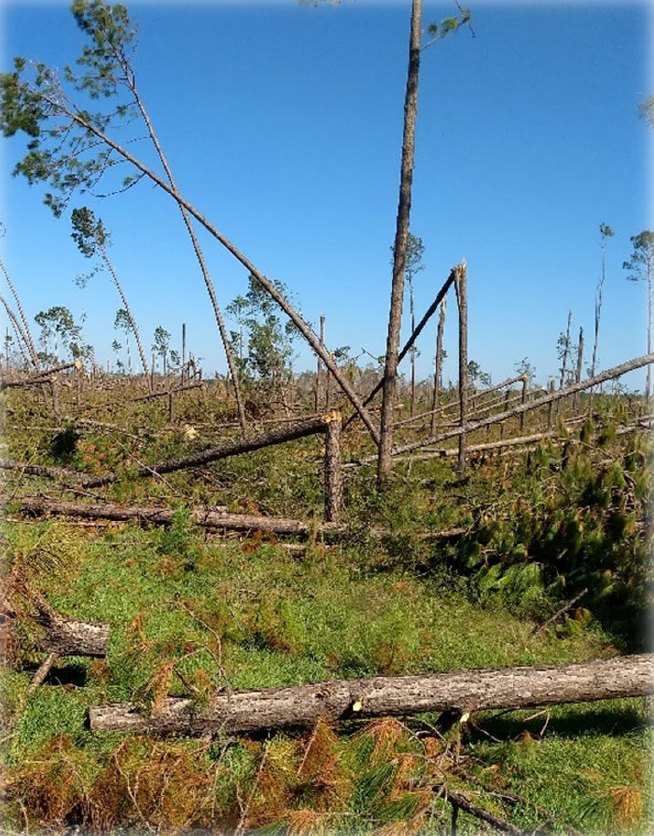 October 2018 lingers on for many in West Florida. Hurricane Michael exploded onto shore in the Central Florida Panhandle and barreled its way north, leaving behind an 80-mile wide path of destruction. Approximately three million acres of forestland was hit, with economic damages conservatively estimated to be $1.3 billion.
You are not alone. Many, if not most, forest landowners in this region are still looking for answers to difficult questions. What assistance is available? What do I do with trees still on the ground? Can I get reimbursed for losses? Can I get assistance with replanting? What are the tax implications? What is the status of forest product markets?
Join us in Blountstown for a free hurricane recovery workshop for forest landowners, provided by the Florida Tree Farm Program. A panel of experts from a wide array of expertise will lead the discussion and help answer your questions. Representatives from the Florida Forest Service, University of Florida IFAS Extension, Florida Tree Farm Program, Florida Forestry Association, Florida Farm Bureau, Florida Fish and Wildlife Conservation Commission, USDA Natural Resources Conservation Service and Farm Service Agency, forest and natural resource professionals, forest products industry, tax professionals, and fellow Tree Farmers and forest landowners will be there.
Register: This event is free and includes lunch. Register in advance so we can plan accordingly. Contact UF/IFAS Calhoun Extension (850) 674-8323 to register. Please share this announcement with others who need this information.
Download the event flyer:  Timber Hurricane Recovery Workshop – Blountstown

Support for this event is provided by the Florida Tree Farm Program, USDA Forest Service via the Florida Department of Agriculture and Consumer Service's Florida Forest Service, and the Florida Sustainable Forestry Initiative Implementation Committee.