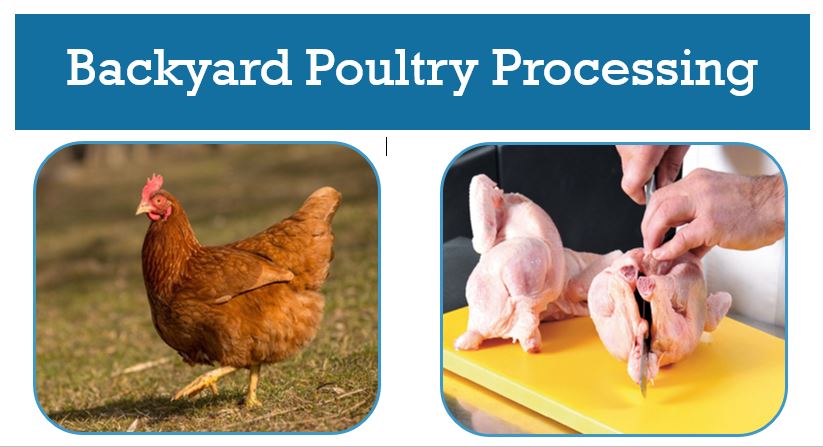 It is Springtime and many people have purchased chicks to fill their coops.  Although many residents buy chickens for eggs, there are some that would like utilize the chickens for meat too. It can be challenging to know where to start in processing a live animal.  Food safety is always a concern when working with animals, and the possibility for cross contamination always exists.
Auburn University has a unique opportunity available for poultry owners who are interested in learning how to process their own poultry.  On May 7th, Alabama Cooperative Extension System will have a Poultry Processing Workshop along with their Mobile Processing unit at Perdido River Farms (5535 Poarch Road, Atmore, AL).  The program will start at 8:30 am and will provide information on backyard chicken processing, what procedures to use and why.  They will discuss how to turn a live chicken into a whole carcass ready for the freezer or the dinner table.
The unique part of this program is that you will have a chance to put your classroom learning to work.  You can bring your own chickens (up to 2) to have the opportunity to participate in every stage of the process including slaughter, scalding, defeathering, evisceration, and chilling.
A registration fee of $20 per participant is due by Friday, May 3, 2019. Space is limited to 20 participants and is first come first serve. Please mail payment to the Escambia County Extension Office, 175 Ag Science Drive Suite D, Brewton, AL 36426 or call 251-867-7760.  If you have any questions about the program, contact Anthony Wiggins at 251-867-7760.
If you are interested in knowing more about how you can legally sell chicken or eggs in Florida, read "What are the Requirements to Sell Eggs and Dressed Poultry from Florida Small Farms?" by UF/IFAS Extension agent Doug Mayo.  Florida has strict rules and regulations in place to protect both the consumer and the producer.
If you have more questions, please visit this informative site about Poultry Production in Florida, or contact your local agriculture extension agent.
Agriculture agent at UF IFAS Escambia County Extension.
Latest posts by Libbie Johnson (see all)