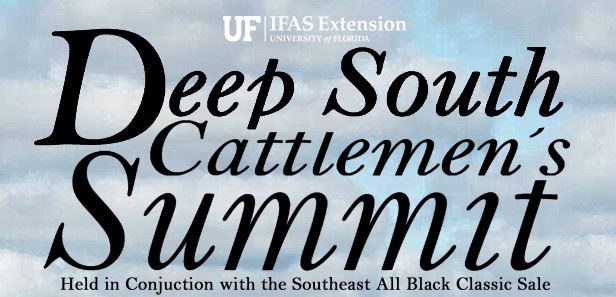 —
Come join superior commercial and seedstock cattle producers from across the Southeast for the Deep South Cattlemen's Summit, to be held on April 12 and 13, 2019, at Southern Cattle Company near Marianna, Florida. This event will be held in conjunction with the Southeast All Black Classic Female cattle sale. Speakers will be featured from across the region on Friday, followed by a banquet that evening. Topics will include: cattle markets, performance management, cattle record software, and other production focused topics. The banquet will feature a "Taste of Beef" dinner, which will highlight value added cuts from the beef industry.
The keynote speaker for the Educational Summit will be Brandon Cutrer. Mr. Cutrer is a Brahman breeder and assistant manager of the family-owned V8 Ranch, a registered Brahman, Shorthorn and commercial cow-calf operation with ranching operations in a 3-county area of the Texas Gulf Coast.  Mr. Curtrer joined V8 Ranch in 2010, and is responsible for day to day management of 300 head of cattle that he and his wife own, along with many responsibilities for the ranch-owned 1500 head operation. His ranch responsibilities include the ranch bull test, performance programs, AI and breeding program, marketing, international representation, and showing. V8 Ranch is known as one of the premier registered Brahman and Shorthorn herds in the world.  They have exported cattle to more than 25 countries, and V8 sires make up 37% of the current ABBA Sire Summary EPD Trait Leaders.
Registration is free to all cattle producers who want to gain knowledge to improve their operation and their bottom line. Please preregister through the Eventbrite link below:
Deep South Cattlemen's Summit Registration
The first 100 registrants for the Deep South Cattlemen's Summit will be entered in a drawing for a jug of GrazonNext herbicide, courtesy of Corteva Range & Pasture.

—
The Herd Builder Showcase will be held on Saturday, April 13, 2019, prior to the sale. This is a replacement heifer show that will highlight elite pens of beef females (3 per pen) to be judged by a panel. This will include commercial and registered replacement heifers of different age classes and pregnancy statuses. Heifers will be shown loose in a ring (not haltered) and will not be fitted. Heifers are to be shown straight out of the pasture and will be judged on their production value as replacements. Money has been added by cattlemen's associations across the Florida Panhandle for the winning producers. This is a great opportunity for producers to show off the genetics and management of their herd in a competition. The full details are in the Rules and Regulations, linked below.
Herd Builder Pen Heifer Show Rules –  Entries are due by April 5
Stick around after the Herdbuilder Showcase to take part in the 2019 Southeast All Black Classic Sale. More information can be found at: Southeast's All Black Classic Female Sale
This is an event for all superior seedstock and commercial producers who are industry leaders with progressive production strategies to come together, network, learn and develop as cattle ranchers. The Deep South Cattlemen's Summit is presented by the UF/IFAS Extension Panhandle Agricultural Team. The Deep South Cattlemen's Summit can be found on Facebook, or for more information please contact Kalyn Waters at 407-619-9862, kalyn.waters@ufl.edu or Nick Simmons at 850-291-7173, n.simmons@ufl.edu
Event Location:  Southern Cattle Company, 4226 N. Highway 231, Marianna, FL 32446
Latest posts by Nick Simmons (see all)