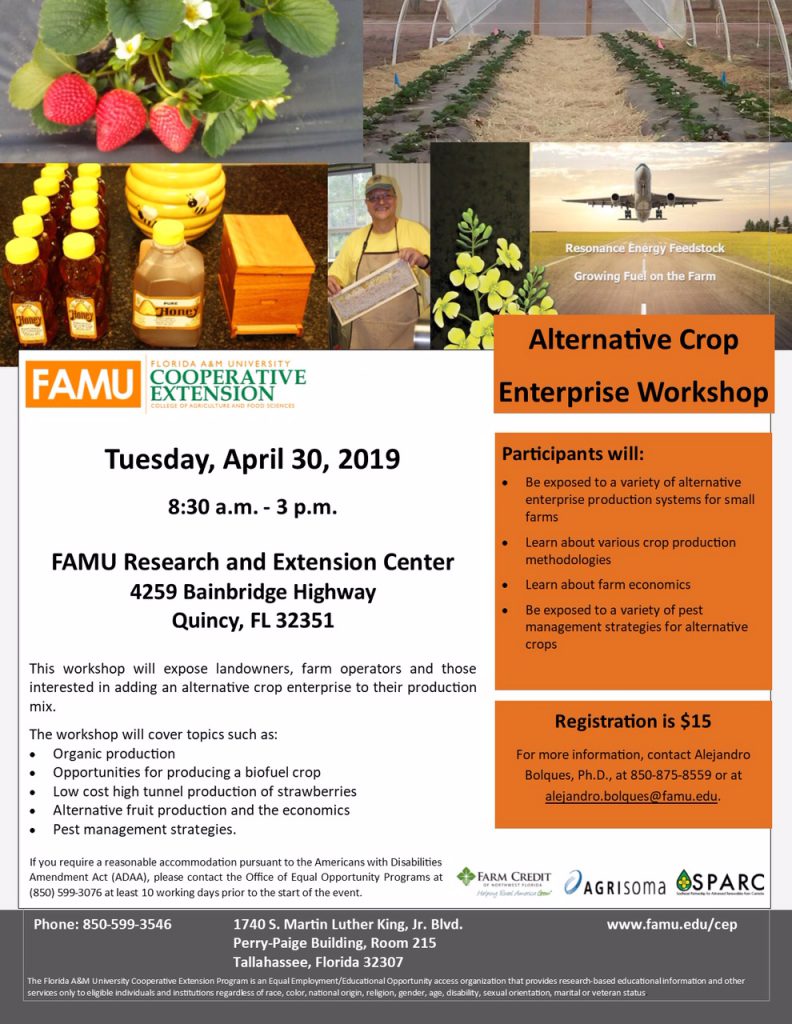 The FAMU Cooperative Extension Program invites you to an Alternative Crop Enterprise Workshop on Tuesday, April 30, 2019 from 8:30 AM to 3PM at the FAMU Research and Extension Center.  Affectionately known as the FAMU Farm, the Center is located at 4259 Bainbridge Highway, Quincy, FL.
The workshop will expose landowners, farm operators, and those interested in adding a new crop enterprise to their production mix to a wide variety of options. Topics will include, alternative crop production systems such as organic production, opportunities for producing a biofuel crop, low cost high tunnel production of strawberries, and alternative fruit production as well as, the economics of  these production systems. Pest management strategies will also be presented at the workshop.  Participants will learn about a variety of alternative crop production systems and various crop production methodologies.  The workshop is also a great opportunity for new and beginning farmers.
To register for the Alternative Crop Enterprise Workshop, use the following link: http://www.cvent.com/d/96qv71
The pre-registration cost of $15 covers lunch and breaks. There will be no on-site registration.
ADDITIONAL INFORMATION:
Dr. Alex Bolques
alejandro.bolques@famu.edu
Telephone:  (850) 875-8559 or (850) 599-3546
Shep Eubanks is the County Extension Director and Agriculture Agent in Gadsden County.
Latest posts by Shep Eubanks (see all)