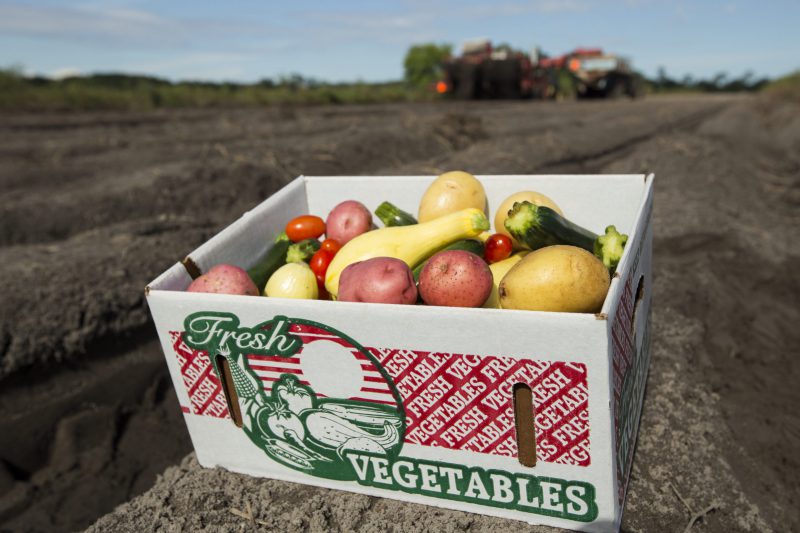 UF/IFAS Jefferson County Extension will be hosting a Produce Safety Alliance (PSA) Training on Thursday, February 27th, 2020. The training will begin at 8:00 AM eastern time, at the Jefferson County Extension Office, located at 2729 W. Washington Hwy, Monticello, Florida.
Who Should Attend?
This training is for fruit and vegetable growers and others interested in learning about produce safety, the Food Safety Modernization Act (FSMA) Produce Safety Rule, Good Agricultural Practices (GAPs), and co-management of natural resources and food safety. The PSA Grower Training Course is one way to satisfy the FSMA Produce Safety Rule requirement.
What is the FSMA Produce Safety Rule?
The Produce Safety Rule is part of the Food and Drug Administration's (FDA) Food Safety Modernization Act (FSMA) that regulates standards for the production, harvest, and handling of fruits and vegetables, in an effort to prevent microbial contamination, and reduce food-borne illnesses associated with fresh produce. When growers, harvesters or packers covered under the regulation will need to comply with the farm food safety standards written in the regulation. The Produce Safety Rule requires at least one individual from a farm attend a Produce Safety Alliance Training Course.
Fruits, vegetables, mushrooms, and sprouts covered under the regulation are:
Grown on commercial farms with average annual produce sales of at least $25,000 calculated over the previous three years of production
Likely to be eaten raw (e.g., leafy greens, cucumbers, tomatoes, summer squash, and most fruits)
What to Expect at the Training?
Trainers will provide approximately seven hours of instruction time covering content contained in these seven modules:
Introduction to Produce Safety
Worker Health, Hygiene, and Training
Soil Amendments
Wildlife, Domesticated Animals, and Land Use
Agricultural Water (Part I: Production Water; Part II: Postharvest Water)
Postharvest Handling and Sanitation
How to Develop a Farm Food Safety Plan
In addition to learning about produce safety best practices, key parts of the FSMA Produce Safety Rule requirements are outlined within each module. There will be time for questions and discussion, so participants should come prepared to share their experiences and produce safety questions.
Benefits of Attending the Training
The course will provide a foundation of Good Agricultural Practices (GAPs) and management information, FSMA Produce Safety Rule requirements, and details on how to develop a farm food safety plan. After attending the entire course, participants will be eligible to receive a certificate from the Association of Food and Drug Officials (AFDO) that verifies completion of the training course.
Registration
The fee for the training is $25 for growers, produce industry members, and government/university employees ($125 for all others). Class space is limited to 50, so register well in advance. Registration for the course includes the training materials, lunch, refreshments, and a certificate of course attendance issued by AFDO. Please register online at:  Produce Safety Alliance Grower Training Course – Monticello. Participation in the entire training is required for the certification.
Training materials and certificate are funded through the Florida Department of Agriculture and Consumer Services (FAIN #U18FD005909). For more information, contact Sarah McCoy at sarahmccoy@ufl.edu.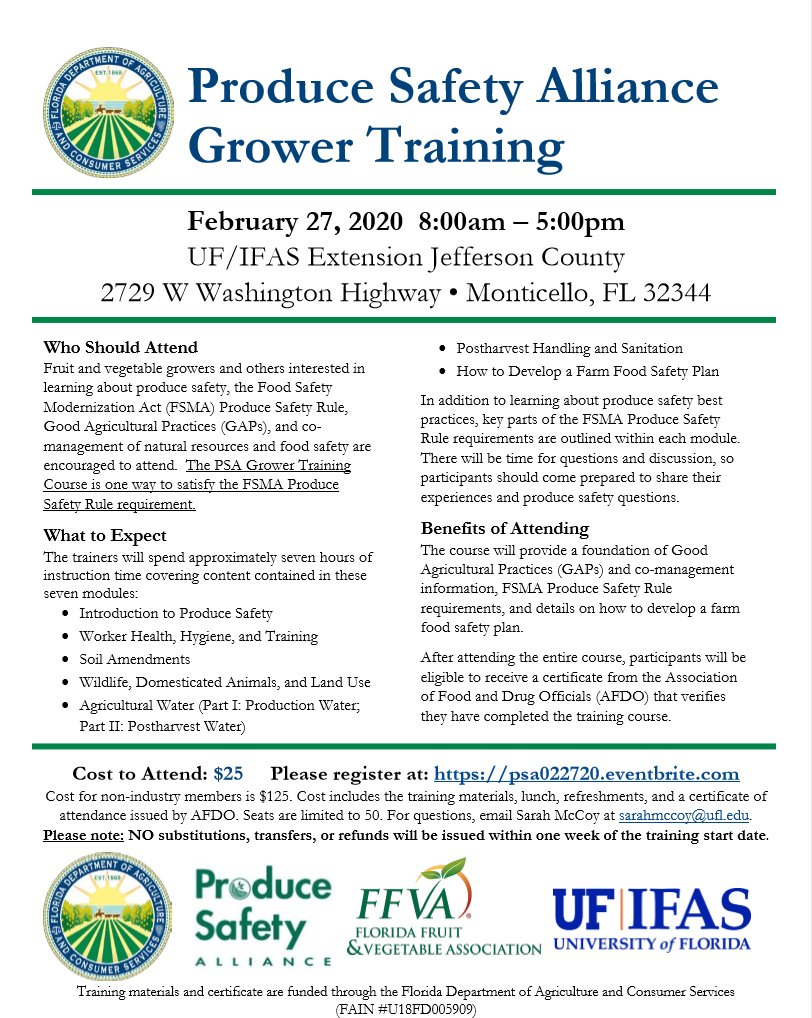 Link to downloadable PDF flyer: PSA Grower Training 2/27/20