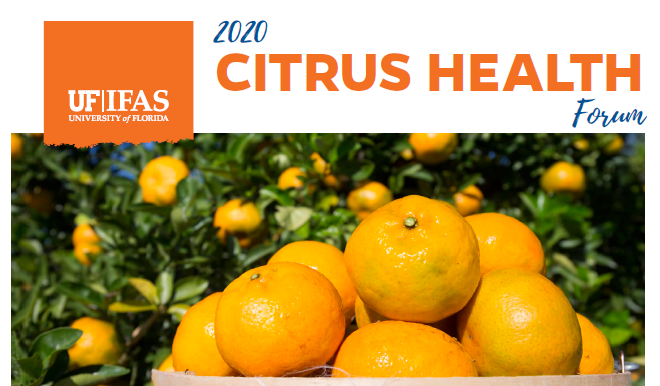 During the last decade, satsuma and other cold hardy, fresh market citrus has generated more interest in North Florida than any other tree crop. There is a growing satsuma industry in the state's Panhandle. The satsuma acreage in Florida has increased substantially with 100 acres planted in Gadsden county alone. Some new developments in North Florida include increased nursery production of satsumas and the establishment of a juice plant in Jefferson county.
Despite this current development, grower meetings pertaining to important fundamental issues such as variety improvement, root-stocks, cold hardiness, and control are limited in this area. The Citrus Health Forum aims to cover the major issues that North Florida citrus growers are currently facing.  The faculty and staff at the North Florida Research and Education Center would like to invite citrus producers to the 4th edition of the Citrus Health Forum, to be held March 12, 2020, at the UF/IFAS North Florida Research and Education Center, in Quincy, Florida.  Potential attendees of this meeting include citrus growers, nursery owners, extension agents, and master gardeners.
The Citrus Health Forum will feature new and emeritus faculty from across the state.  The subjects to be covered this year include: management of citrus insect pests, best herbicide application practices (including a field demonstration), irrigation and nutrition program.  Invited scientists renowned for their expertise in citrus pest and citrus physiology, including weed scientists, horticulturists, and entomologists from the Citrus Research and Education Center, and Southwest Florida Research and Education Center will be sharing their experience and expertise. For more details, use the following link for the event flyer:  2020 Citrus Health Forum
Registration for the Citrus Forum is only $5 per person, payable at the door, and includes a coffee break, lunch and access to the field demonstration.  This educational event has also been approved for pesticide applicator CEUs.  Meeting location:  155 Research Road, Quincy, Florida.  Interested participants are asked to RSVP no later than March 11. To RSVP contact Charlene Cupp Kinch (accupp@ufl.edu | 850-875-7101).
Want to be a Sponsor?
Organizers are looking for sponsors to support the event!  Each sponsor will have the opportunity to present their products and their services before the coffee and the lunch breaks. In addition, your contact information will be available on the agenda provided at the event. You also have the opportunity to have a table and an outdoor exhibit, if desired. Please contact Danielle Sprague for any sponsor inquiries: dsprague@ufl.edu | 850-342-0187
Agenda (Eastern Time)

Moderator: Danielle Sprague – Jefferson County Extension Agent
8:30 – Trade Show & Registration Opens

9:00 – Welcome and Introduction: Danielle Sprague and Xavier Martini, UF/IFAS Extension

9:05 – Irrigation: Davie Kadyampakeni, Soil and water Science department, UF/IFAS CREC, Lake Alfred, FL.

9:35 – Nutrition & Fertilization: Tripti Vashisth, Horticulture Science department, UF/IFAS CREC, Lake Alfred, FL.

10:05 – Insects altering Fruit Appearance: Lauren Diepenbrock, Entomology department, UF/IFAS CREC, Lake Alfred, FL.

10:35 – Trade Show & Snack Break

11:05 – Weed Management in Citrus Groves: Ramdas Kanissery, Horticultural Sciences Department, SWFREC, Immokalee, FL.

11:35 – Leaf miner and Psyllid Management: Xavier Martini, Entomology department,UF/IFAS NFREC, Quincy, FL.

12:00 – Lunch

1:00 – Field Tour and good practices for sprayer use demonstration: Pete Andersen Horticultural Sciences Department, NFREC, Quincy, FL.; and Michael Williams, Vans Equipment.

2:00 – Cold Hardy Citrus Association Meeting.
Latest posts by Xavier Martini
(see all)