During the unprecedented COVID-19 pandemic and social distancing restrictions, Leon County 4-H Volunteer Evelyn Gonzalez continued to volunteer with 4-H and teach life skills to youth across Florida. Evelyn has been actively volunteering with Leon County 4-H since 2014 and when all 2020 summer camps and in-person activities were cancelled due to COVID-19, Evelyn adapted without missing a beat. Volunteer Evelyn Gonzalez immediately jumped into action and assisted with a variety of virtual programs. In the past, Evelyn has led two sewing community clubs and volunteered with a variety of 4-H programs throughout the year. When
The first virtual program Evelyn helped with was the Leon 4-H Virtual Weekly Club. This club featured different topics each week. Without being asked, Evelyn energetically joined each meeting and helped keep the kids engaged. Anytime there was a lull in participation, or the kids were being camera shy, Evelyn would excitedly jump in and help encourage participation. Her dedication and support to 4-H during this time helped youth gain the knowledge and life skills needed to be productive citizens, while keeping everyone safe.
By embracing the possibilities of online learning, Evelyn Gonzalez was able to continue to volunteer with various programs that engaged, educated, and inspired youth. She made the decision to offer her regular sewing club virtually during 2020 and plans to offer a virtual option in the new 4-H year. One of the most impactful programs Evelyn assisted with was the virtual summer camp titled Having Sew Much Fun. This camp was open to youth across the state with an average of 34 households participating each day. Evelyn helped prepare sewing instructions and provided technical assistance to campers who were having sewing machine troubles. She sewed examples of each of the daily projects to share during the virtual show and tell for camp.
One camper was having a difficult time getting her sewing machine to work correctly and Evelyn stayed on the Zoom for an extra hour to help the camper fix her machine. The camper's mom reached out afterward and shared that "what you all did today for her, staying on and helping her figure out the issue was the best for her and I. Her older sister had a medical emergency in Orlando and when I left yesterday to drive here, she was scared, and I know that sewing has kept her mind busy through everything. I can't thank you enough for the extra assistance and love you showed her today with helping her fix her sewing machine issue".
All 4-H clubs are made possible through the dedication of volunteers like Evelyn. She first learned about the need for 4-H sewing volunteers the summer of 2014 during 4-H summer sewing camp, where she volunteered with the Tallahassee Chapter of the American Sewing Guild (ASG). When asked why she choose to volunteer with 4-H, Evelyn replied: "Volunteering is always gratifying. There is a need and you are trying to fill it. Working with youth is stimulating and rewarding. They are smart, fast, and funny — they make me laugh! You learn about what makes kids tick, what their concerns are, and you continue learning about what you're teaching [sewing]."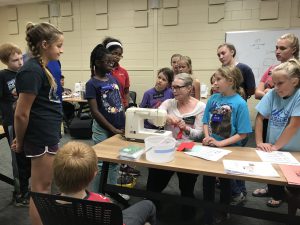 One club parent stated, "Ms. Evelyn is so patient with the children. She clearly puts a lot of work and energy into every meeting. The children leave with increased confidence and skill, which is evident from the huge smiles on their faces. We so appreciate Ms. Evelyn, as well as the other volunteers that give so generously of their time. The children are inspired, as well as challenged, to do more than they thought they could".
Latest posts by Allison Leo
(see all)