As spring approaches, are we thinking about pollinators?  How often do we stop to think of the importance of pollinators to food security?
Pollination is often described as the transfer of pollen grains from the anther to the stigma of a flowering plant.  These transfers are made possible due to pollinator visits in exchange of pollen and nectar from the plants.
Who are our pollinators?
Main Global Pollinators
Social                                                                          Solitary
Honeybees                                                                  Alfalfa leafcutter bee
Bumble bees                                                               Mason bees
Stingless bees                                                             Other leafcutter bees
How can we care for pollinators?
We can care for our pollinators by growing plants that have abundant and accessible pollen and nectar.
Choose plants with flat flowers or short to medium-length flowers tubes (corollas), and limit plants with long flower tubes such as honey suckle.
Avoid plant varieties that do not provide floral rewards (pollen), which is the essential food source for bees. (e.g., some sunflower, and lilies).
Many native wild bees have relatively short proboscises, or tongues, and may not be able to access nectar from flowers with long tubes; however, flowers with long floral tubes can attract other pollinators with long tongues or beaks such as butterflies, moths, and hummingbirds.
Are we creating an ecosystem aesthetically pleasing while attracting pollinators?
The planting of native wildflower in Florida can benefit agricultural producers likewise, native pollinators and other beneficials such as parasitoids and predators. Some of the main benefits of growing native wildflower are:
Increasing wild bee presence in the surroundings.
Providing nesting and foraging sites for pollinators, butterflies, bees etc.
Increasing natural enemies of pest insects.
It is important to select mix varieties of native wildflower when restoring habitats for our pollinators. Mix varieties will flower all year round and make available continuous supply of nectar and pollen. If possible, use wildflower seeds that are produced in the state that you want to carry out pollinators' restoration. It is highly likely that one will experience better growth from locally produced seeds because they will adapt better to regional growing conditions and the climate.  For optimum flowering and high production of floral rewards such as pollen and nectar. Place wildflowers in areas free of pesticide and soil disturbance.
Most bee species are solitary, and 70% of these solitary bees' nest in the ground.  A wildflower area of refuge can fulfill the shelter resource needs of these bees since that area will not undergo regular tilling, thus minimizing nest disturbance.
Supporting information for this article can be found in the UF/IFAS EDIS publications (Common Native Wildflowers of North Florida) visit : https://edis.ifas.ufl.edu/pdf/EP/EP061/EP061-15448828.pdf and Attracting Native Bees to Your Florida Landscape  IN125500.pdf (ufl.edu.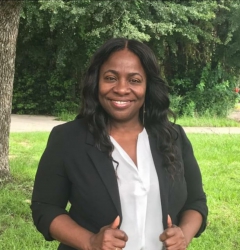 Latest posts by Donna Arnold
(see all)