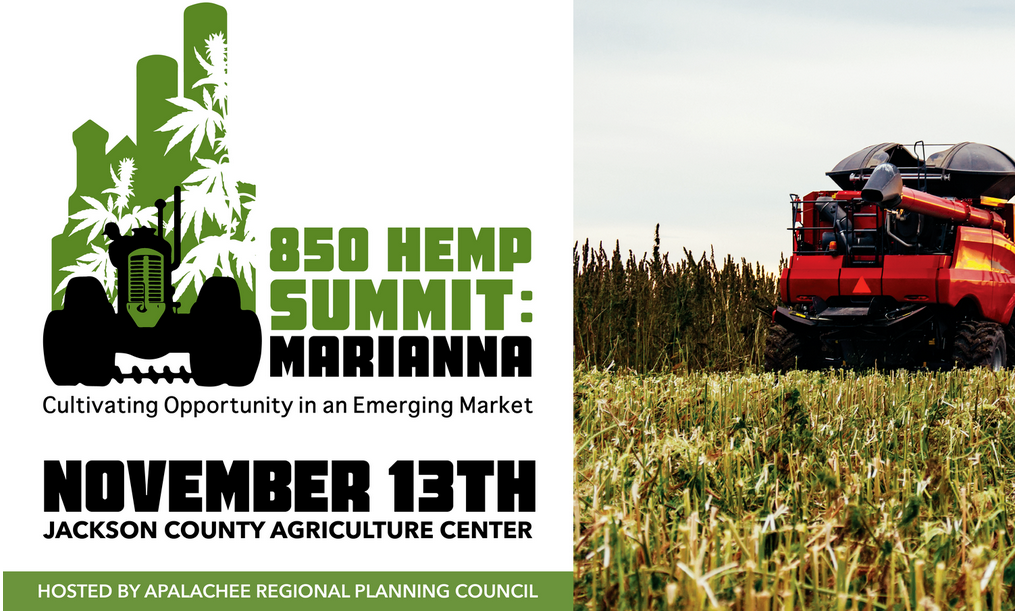 Registration is open for the 850 Hemp Summit: Marianna , to be held at the Jackson County UF/IFAS Extension Office in Marianna, FL on November 13, 2019. A complete Agenda and list of Speakers will be posted on this website soon.
The 850 Hemp Summit will bring together farmers, stakeholders, cultivation and production experts, economic development professionals and policymakers to discuss the current status, challenges and opportunities for this emerging market within our region.
With all the buzz about the hemp industry in Florida and across the nation this is a great opportunity for the 850 Region. Let's explore how we can diversify our agricultural opportunities; how we can create new jobs; and how we can help create a thriving economy in a region still reeling from the devastating losses caused by Hurricane Michael. View more . . .
Date: Wednesday, November 13, 2019
Location: Jackson County UF/IFAS Extension Office, 2741 Penn Ave, Marianna, FL 32448, FL.
Registration Hours: 7:30 am – 9:30 am on Wednesday, November 13, 2019
Registration Fees: Attendees $25
Exhibitors and Sponsors, please following link:  https://850hempsummit.com/

Payments: Registration fees may be paid online with a credit card using the following link:  https://850hempsummit.com/, or by mail with a check. Checks should be made payable to ARPC. Please use the PDF registration form if you prefer to pay by check.
Hotel Information: If you need overnight accommodations, there are several hotels located at Exit 142 off of I-10, close to Marianna.
For more information contact conference management at
850-385-3595 or email 850Hemp@tmcshows.com.