Make plans to join the Holmes County Cattlemen's Association on October 26, 2019 for the Fall Cattle Forum. The meeting will be held at the Northside Assembly of God Fellowship Hall in Bonifay, Florida (1009 Range Line St, Bonifay, FL 32425) . A free steak dinner will be sponsored by Southern Cattle Company, please RSVP by October 22, 2019 at 850-547-1108. If you do not RSVP you are still welcome, however we will ask that you pay $5 at the door to help cover the cost of the meal.
Holmes County Cattlemen's Association Membership Meeting will start at 5 PM
Steak Dinner is served at 6 PM
Fall Cattle Forum will start at 6:30
Meetings will adjourn at 7:30
A discussion panel will feature experts on forages and cool season grazing, reproduction and herd health, and USDA Tractability. This is your opportunity, as a cattle producer to ask the questions that are impacting your operation, and network with fellow producers, while enjoying a good steak dinner.  You do not have to be a Cattlemen's Association member to attend, everyone is welcome.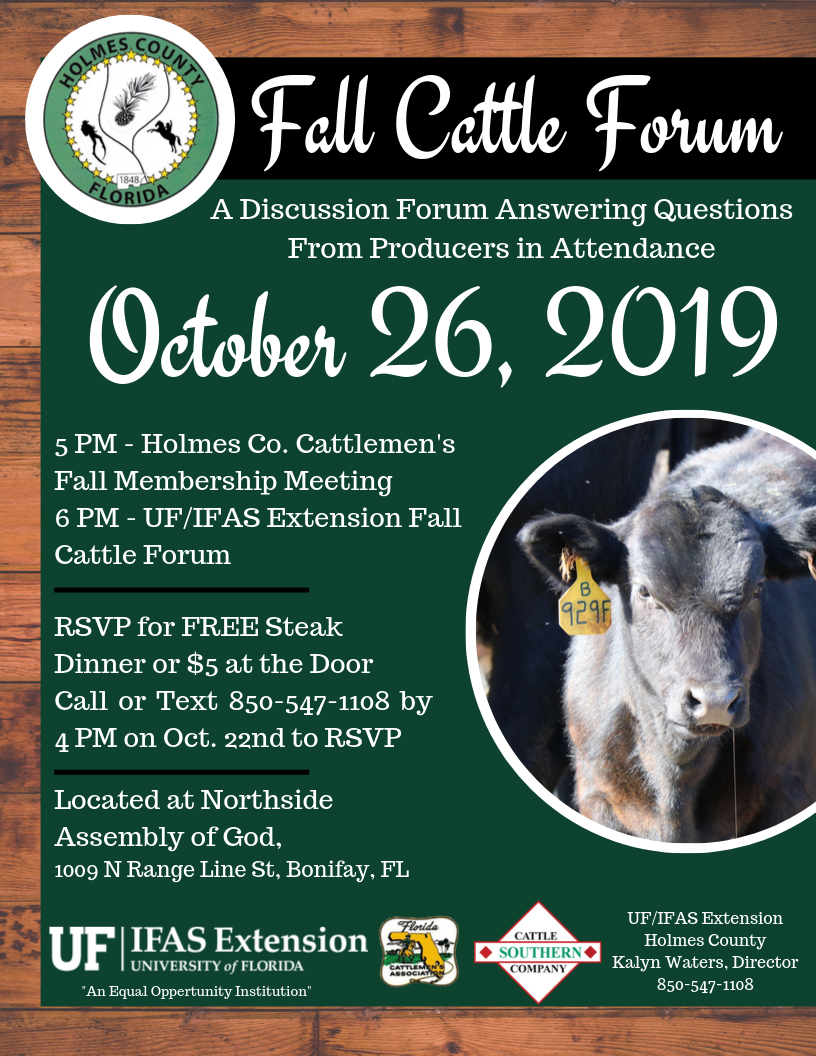 Holmes County Extension Director working in the areas of Agricultural Management in row crop, natural resources, livestock and forage production. Specialized in Beef Cattle Production in the area of reproductive, nutritional and finical management.
Latest posts by Kalyn Waters (see all)