For the past 35 years, the Panhandle Ag Extension Team has offered a cattle rancher educational program in Marianna that included a trade show of businesses and organizations that serve the cattle industry in the tri-state area (NW FL, SE AL, & SW GA).  Due to COVID19, a traditional in-person cattle producer meeting for 200 people is not feasible.  For 2021, the planning team will host a 90 minute webinar with two invited speakers, brief updates from cattle and forage researchers, with a question and answer panel discussion afterwards.
–
2020 hit cattle producers really hard in the Tri-state region. COVID19 disrupted markets all across America, as beef supplies shifted from food service customers to retail grocers, and meat plant production was disrupted backing up the supply chain.  Tropical storms and hurricanes, also flooded pastures and hay fields compounding issues locally. There is hope for a brighter future, so the focus of the 2021 program will be Moving Forward from Disruption.
Chris Prevatt, UF/IFAS Livestock & Forage Economist will provide a presentation on the Cattle Market Outlook for 2021 and Beyond to set the stage for the keynote speaker.  Dr. Glenn Selk, Emeritus Beef Extension Specialist, Oklahoma State University, will provide the keynote video presentation entitled Cornerstone Concepts for Cow Herd Sustainability.  His presentation will share his thoughts on the most important management tools that set the foundation for profitable commercial cow-calf operations.  Dr. Selk is known across the country for his weekly video and article series entitled, "Cow-Calf Corner."  Dr. Selk has 47 years of experience with Oklahoma State Extension, working primarily with cow-calf producers.  The final presentation will provide a 20-minute overview of the Most Significant Recent Breakthroughs in cattle and forage agronomy research in Florida.  The webinar will conclude with a Question & Answer Session to allow the speakers to address questions brought up during the presentations and from the discussion that follows.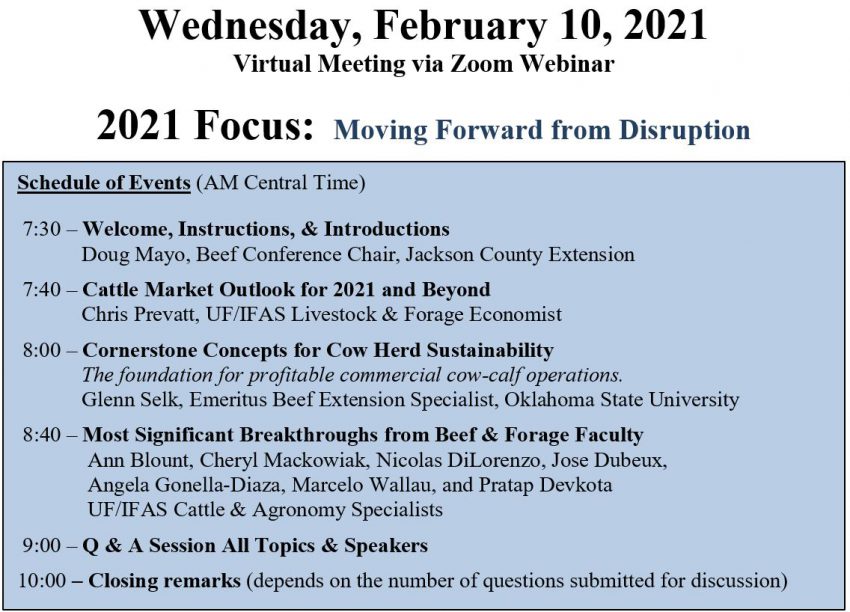 –
The Virtual Beef Conference will be held from 7:30 AM until approximately 9:30/10:00 Central Time (depending on the number of questions submitted for discussion).  Participation in this sponsored event is free for participants, but pre-registration is required by using the following link:
–
After you registering online, the link and login information needed to participate will be automatically emailed to you.  This webinar will be hosted using the Zoom webinar software that can be viewed from a computer, laptop, tablet, or smartphone with internet access and audio speakers or headphones.
We can't offer a trade show this year, but are soliciting sponsors to be included in the proceedings, so participants will have the most current contact list a the wide ranges of services and products offered by the companies that support the cattle and forage industry in the Tri-State Region.  For more information on being a sponsor, use the following link:  21 NW FL Beef Conference Sponsor Registration
For more information on this event, contact Doug Mayo, UF/IFAS Extension Jackson County, 850-482-9620 or demayo@ufl.edu.
Latest posts by Doug Mayo
(see all)