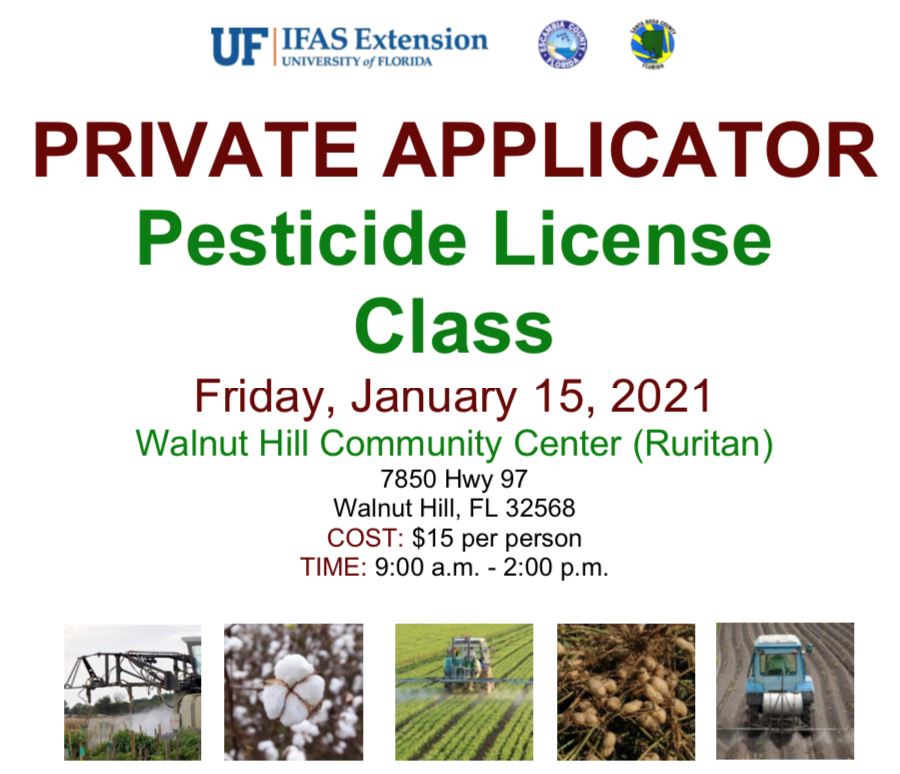 –
Attendees will learn the basics of applying pesticides correctly and will be able to take the exams (Private Applicator and Core) necessary to become certified private applicators by FDACS.
WHO NEEDS A LICENSE?
Anyone using or supervising the use of restricted use pesticides on agricultural or related sites in Florida needs a restricted use pesticide license. Agricultural and related sites include but are not limited to the following areas: farms, plant nurseries, livestock operations, forests, and ornamentals and turf not associated with structures.
A "private applicator" is an individual licensed by FDACS to use or supervise the use of any restricted use pesticide for the purposes of producing any agricultural commodity on property owned or rented by the licensed person or that person's employer. This license is for farm, ranch, grove, nursery, sod farm applications, etc.
This training will be held to prepare participants to take the exam, no CEUs will be provided.
CDC guidelines regarding face coverings and social distancing must be followed.     
There will be a one hour lunch break. Please plan to bring your own or leave to go pick up lunch.
–
Please pre-register to ensure your place, as this class is limited to 20 attendees.                                               
To pre-register, contact: Bethany Caraway at (850) 857-2313
Latest posts by John Doyle Atkins
(see all)