If you are a Florida grower who uses auxin technology in your cotton or soybean and you farm in Georgia too, you need to get certification from BOTH states.  The schedule for the 2021 UGA Extension Auxin Trainings has been finalized. Below are the training requirements as well as a schedule with the zoom links. All of the meetings will be virtual; however, technology/internet service can be a problem. If you need help, contact your UGA Extension agent.
The Georgia Department of Agriculture has a from that can be used to address farms with multiple participants viewing the UPW Training on one computer. For those of you that need the form, please contact Lisa at uge3031@uga.edu or by phone (912) 871-6130.
–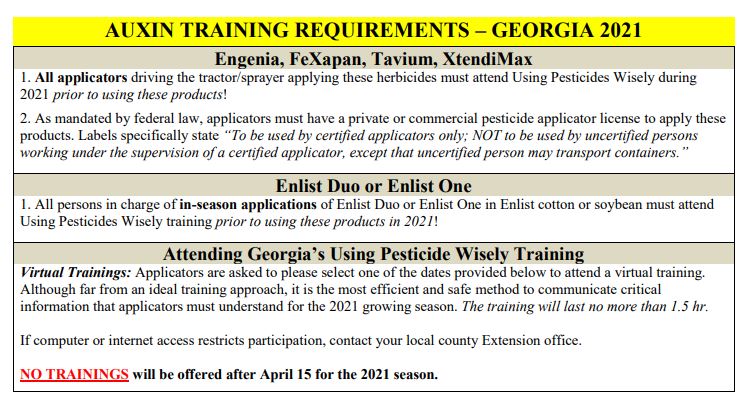 –
2021 USING PESTICIDES WISELY VIRTUAL TRAININGS
March 29, 5:30 PM – https://zoom.us/webinar/register/WN__TcK3qVKRjK0T7g1FRKD9w
April 1, 9 AM –  https://zoom.us/webinar/register/WN_uTi6pFQwQkayZK60LbBZOQ
April 5, 5:30 PM –  https://zoom.us/webinar/register/WN_86HgfXsMRt64_dN_xz9b0g
April 8, 9 AM –  https://zoom.us/webinar/register/WN_Nry9IN0HQSu7YgP5TOiC3g
April 12, 5:30 PM –  https://zoom.us/webinar/register/WN_ox4YobtHSwW7N9OfjgnkBA
Each individual applicator must pre-register to attend the training. Registration is permitted up to 2 hours prior to the training. Make sure you have your pesticide license number available for registration.
Documentation of UPW Training:  Attendee's names will be placed on a list posted to the Georgia Department of Agriculture's auxin website at http://www.agr.georgia.gov/24c.aspx. Please allow up to 21 days after the training date for names to be posted. This list will serve as the official training record as attendance verification. Two hours of pesticide credit for private or commercial will be offered as long as a pesticide license number is provided during registration.