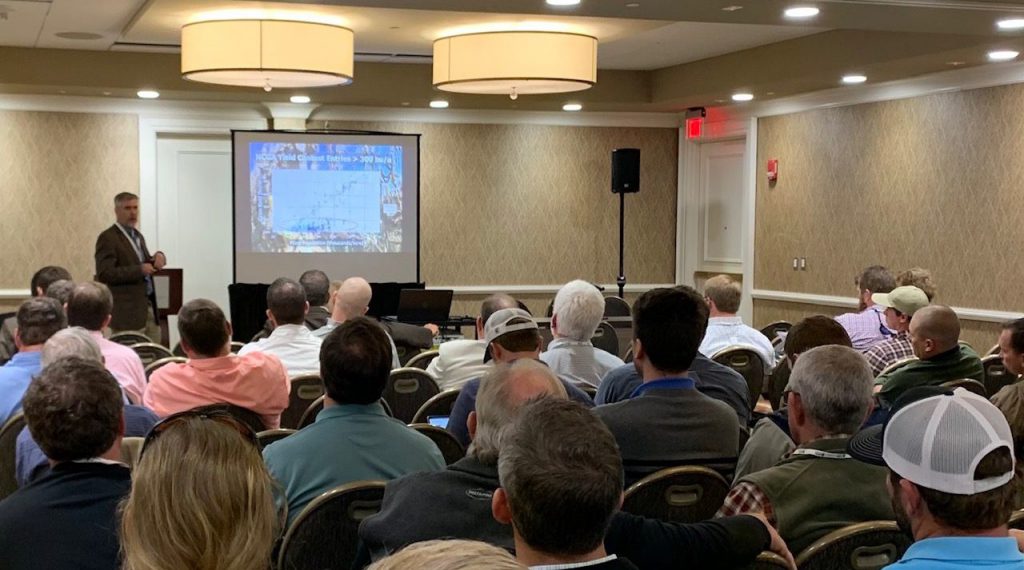 The Alabama Cooperative Extension System agronomic crops team is excited to announce the 2022 Alabama Row Crops Short Course. This statewide conference is held each year. This year the conference is moving to Montgomery, Alabama. Join the team for an opportunity to hear the latest information from researchers, industry representatives, and Extension professionals about row crop management and production in Alabama.
When: January 18 at 1:30 p.m. through January 19 at 4 p.m.

Where: Embassy Suites Montgomery, 300 Tallapoosa Street, Montgomery, Alabama 36104.

Registration
There is no registration fee for the short course, if participants register by January 7. After January 7, there is an attendance cost of $40/person. This year, the short course will be held directly after the Alabama Soybean & Corn Association Annual Meeting, which will take place on the morning of January 18. For convenience, people may register for both meetings using the same link.

To register, visit the 2022 Alabama Row Crops Short Course registration page.

Rooms are available at the Embassy Suites Montgomery for $119 per night. Visit the Embassy Suites website to book in the Row Crops Short Course block.

Find the agendas for the Alabama Row Crops Short Course as well as the Alabama Soybean & Corn Association Annual Meeting below.
–
Alabama Row Crops Short Course Agenda
January 18, the Alabama Row Crops Short Course will open with a soybean, corn, and wheat session and end with a peanut session. Following the peanut session, there will be a social gathering. Wednesday's agenda includes a general crop production session and a cotton session.
Tuesday, January 18
Soybean, Corn, and Wheat Session Topics
Soil and Environmental Conditions Affecting Soybean Growth – Eros Fransisco, Auburn University
Precision Nutrient Management for Corn and Soybean – Luciano Shiratsushi, Louisiana State University
Fall Armyworms: What Happened in 2021 and How to Manage in 2022 – Katelyn Kesheimer, Auburn University
Weed Management in Small Grains – Jason Bond, Mississippi State University
Peanut Session Topics
Cover Crops for Peanut Production Systems – Audrey Gamble and Steve Li, Auburn University
Tomato Spotted Wilt Management – Mark Abney, University of Georgia
The Future of Peanut Yield Monitors – Rees Bridges, InformedAg
High-yield Peanut Farmer Panel – Mike Mullek, Russell Wiggins, Tom Corcoran, Jimmy Miller, and Robert Ingram
–
Wednesday, January 19
General Session Topics
Climate Outlook – David Zierden, Florida State University
Carbon Markets – Joe Outlaw, Texas A&M University
Input Cost Management – William Maples, Mississippi State University
Alabama Variety Selection Platform – Henry Jordan, Auburn University
Gold Sponsor Talks – Gold Sponsors
–
Cotton Session Topics
Seed Coats, Data, and Automation – Ed Barnes, Cotton Incorporated
Cotton Row Spacing and PGR Management – Jay Mahaffey, Bayer CropScience
Tarnished Plant Bug Management in Cotton – Whitney Crow, Mississippi State University
Weed Management for Cotton Production Systems – Larry Steckel, University of Tennessee
The following Certified Crop Adviser CEUs will be offered at the short course:
Nutrient Management – 0.5 CEUs
Soil & Water Management – 2 CEUs
Integrated Pest Management – 3.5 CEUs
Crop Management – 5 CEUs
AL Pesticide points will also be available.
–
Alabama Soybean & Corn Association Annual Meeting Agenda
Tuesday, January 18
8:30 a.m. – Registration
9 a.m. – Welcome – Stewart McGill
9:05 a.m. – The Advancement of Digital Agriculture in Corn and Soybean Production – John Fulton, The Ohio State University
10:30 a.m. – Trade Show and Refreshments
11 a.m. – Yield Contest Winner Awards – Jeremy Wilson and Wendy Yeager
11:15 a.m. – Corn and Soybean Production Producer Panel – Chad Henderson, Shep Morris, Jr. and Alfred Allred. Moderator Stewart McGill
12:15 p.m. – Announcements – Mark Hall
12:30 p.m. – Lunch – Jeremy Wilson
Thank you to the Alabama Wheat and Feed Grain Producers and the Alabama Soybean Committee for sponsoring the program!
–
More Information
For more information about the conference or sponsorships, contact Audrey Gamble at avg0001@auburn.edu.



Latest posts by Libbie Johnson
(see all)