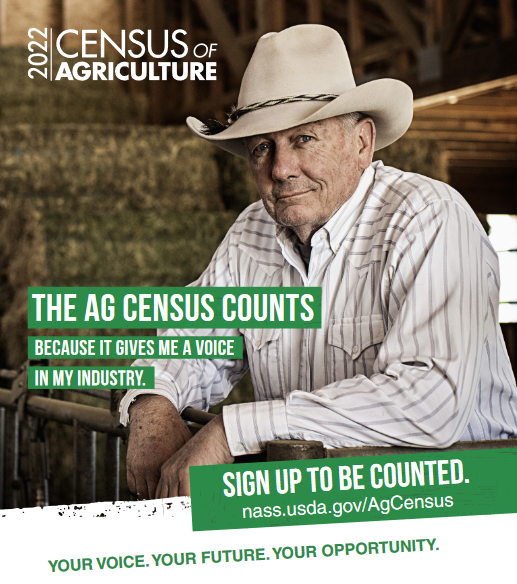 If you are new to farming, or have taken over the ownership and management of a farm in the past five years, you are encouraged to register with USDA to ensure your farm is counted in the upcoming 2022 Census of Agriculture.  Agriculture producers who did not receive the 2017 Census of Agriculture and do not receive other USDA surveys or censuses have until June 30 to sign up to receive the 2022 Census of Agriculture. USDA's National Agricultural Statistics Service (NASS) will mail ag census survey codes for responding securely online to every known U.S. producer this November. Hard copy questionnaires will follow in December.
–
The ag census, conducted for over 180 years, remains the only source of comprehensive and impartial agricultural data for every state and county in the nation. It includes every operation – large or small, urban or rural – from which $1,000 or more of agricultural products are produced and sold, or would normally be produced and sold, in the ag census year.
"The Census of Agriculture is a collective voice that tells the story and value of American agriculture. The data influence action and inform policy and program decisions that directly impact producers, their operations, and everyone they touch – and that's all of us," said Barbara Rater, NASS Census and Survey Division director. "This is why a complete count, with every producer getting and taking the opportunity to be represented in these data, is so important."
–
Why is the Census of Agriculture important?
The Census of Agriculture provides the only source of uniform, comprehensive, and impartial agriculture data for every county in the nation. Through the Census of Agriculture, producers can show the nation the value and importance of agriculture and can influence decisions that will shape the future of U.S. agriculture.
Who uses Census of Agriculture data?
Census of Agriculture data are used by all those who serve farmers and rural communities — federal, state and local governments, agribusinesses, trade associations, and many others.
Farmers and ranchers can use Census of Agriculture data to make informed decisions about the future of their own operations.
Companies and cooperatives use the data to determine where to locate facilities that will serve agricultural producers.
Community planners use the information to target needed services to rural residents.
Legislators use census data when shaping farm policies and programs.
Does NASS keep the information provided by individual respondents private?
NASS is bound by law (Title 7, U.S. Code, and the Confidential Information Protection and Statistical Efficiency Act or CIPSEA, Public Law 107-347) – and pledges to every data provider – to use the information for statistical purposes only. NASS publishes only aggregated data, not individual or farm-specific data.
–
Need more information?