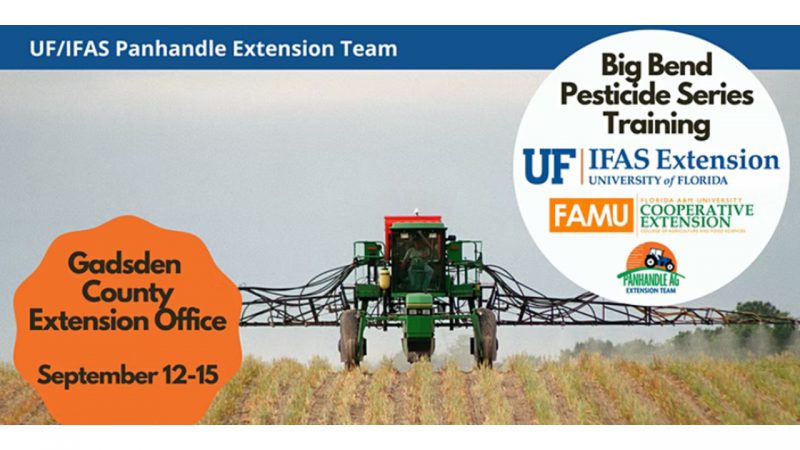 The Big Bend Pesticide Training Series is a multi-county collaboration between Gadsden, Leon, and Jefferson County Extension agents. The series is scheduled for September 12-15th and will take place this year at the Gadsden County Extension Office in Quincy (2140 West Jefferson Street, Quincy, FL 32351).
This series offers a wide variety of pesticide CEUs, including some categories that are harder to find such as natural areas and aquatics. If you are interested in obtaining a new license or are still in need of CEUs for renewal, don't miss out on this opportunity!
Registration is $15/session and refreshments will be provided. The different sessions serve as a review for the exam or can be used to obtain CEUs.
=
Agenda (Eastern Standard Time)
September 12th:   8:30am-11:00am – Core with Exam (3 487 & 2 482 CEUs)
1:00pm- 3:30pm – Private/Row Crop with Exam (3 CEUs)
September 13th:   8:30am-11:00am – Right-of-Way with Exam (3 ROW or 2 Aquatic CEUs)
1:00pm- 3:30pm – Aquatic with Exam (3 Aquatic, 3 Private, or 1 Natural Area CEUs)
September 14th:   8:30am-11:00am – Ornamental & Turf with Exam (3 O&T, 3 Private, 2 LLO, 2 LCLM, or 2 CLO CEUs)
1:00pm- 3:30pm – Natural Areas with Exam (3 Natural Areas, Forestry, or Private CEUs)
September 15th: 8:30am-11:00am – Forestry with Exam (3 Forestry, Natural Area, or Private CEUs)
–
Download the event flyer. Pre-registration for the event is avaiable online through Eventbrite.  For more information or pre-registration, you can also contact the Gadsden County Extension Office: 850-875-7255.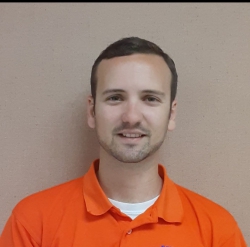 Latest posts by Ethan Carter
(see all)