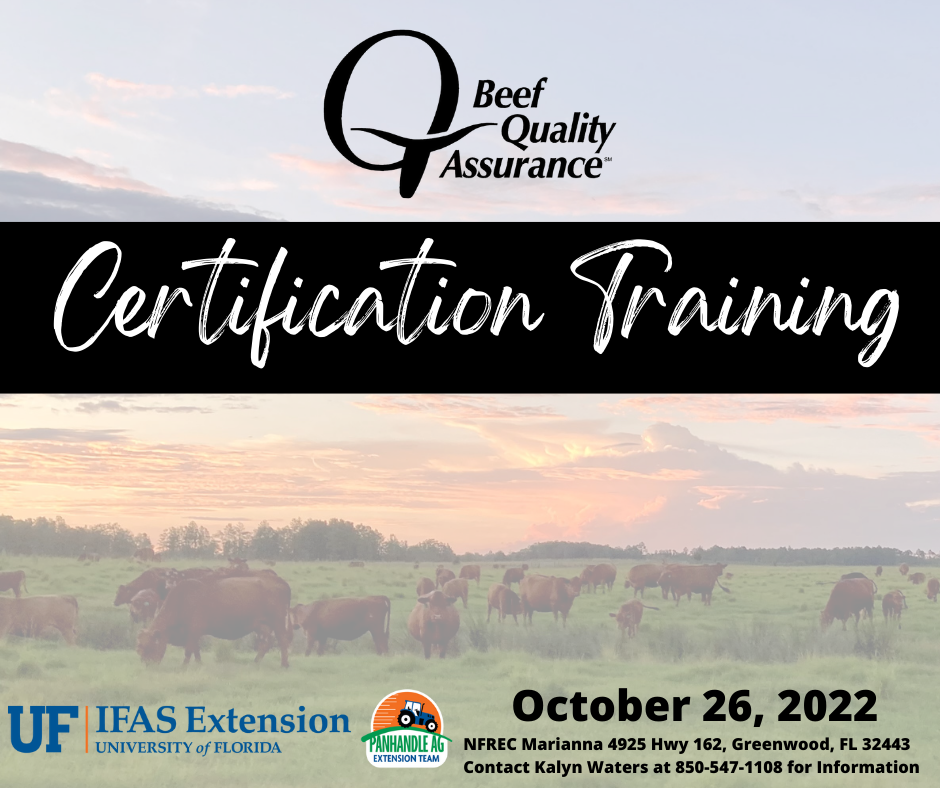 In conjunction with the Panhandle Cattlemen's College, there will be a Beef Quality Assurance (BQA) certification hosted on October 26, 2022 from 8:00 AM CST to Noon, at the North Florida Research and Education Center's Beef Unit, near Marianna, Florida. This three hour course will result in BQA certification.
Beef Quality Assurance is a nationally coordinated, state implemented program that provides systematic information to U.S. beef producers and beef consumers of how common sense husbandry techniques can be coupled with accepted scientific knowledge to raise cattle under optimum management and environmental conditions. BQA guidelines are designed to make certain all beef consumers can take pride in what they purchase – and can trust and have confidence in the entire beef industry.
Registration is required for all participants and can be completed at the link below or in person at the NFREC in Marianna, or the Holmes County Extension Office.
https://www.eventbrite.com/e/ufifas-panhandle-cattlemens-college-tickets-394679566207
There is a $40 registration fee which will include all class materials and a steak lunch sponsored by Merck Animal Health.  Currently this is the only BQA certification scheduled in the Florida Panhandle for this fall, so please make plans to attend. For more information please call Kalyn Waters at 850-547-1108.
Latest posts by Kalyn Waters
(see all)