Cheryl Mackowiak, UF/IFAS Soil Scientist and

Marcelo Wallau

, UF/IFAS State Forage Specialist
Come join us for a fun day touring dairy farms to see some of our most productive cool-season small grains, annual grasses and legumes in their prime! We will begin our morning in North Florida, visiting fields at Full Circle Dairy, followed by Shenandoah Dairy. These sites provide a great opportunity to compare forage species and varieties. We have over 30 different plant materials, including grass-legume mixtures. You will see cool-season forage production at its best and we will share some lessons learned, as well. We will follow these tours with a catered lunch at NFREC-Live Oak, including great food and great group discussion. Following lunch, we will complete our event with an on-center tour of pasture overseeded with forage mixtures that are being grazed by beef cattle. Participants will have access to UF/IFAS expertise in forages, soil fertility and livestock, so bring your notebook, questions and appetite!
$5 online registration is requested by February 27th, so we have an accurate count for lunch.  Use the following link to reserve your spots on the tour:
–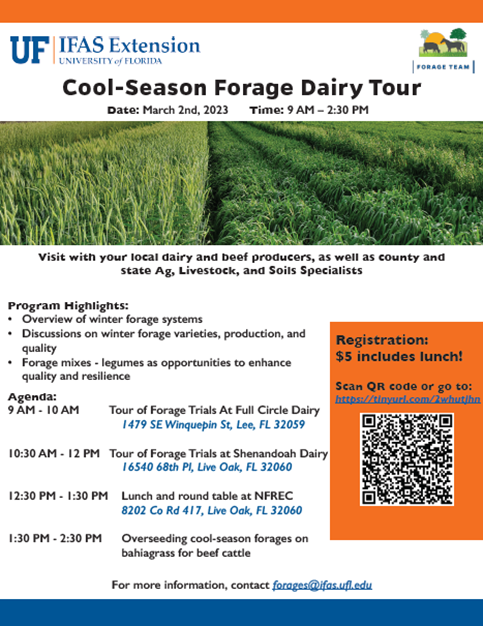 Latest posts by Cheryl Mackowiak
(see all)