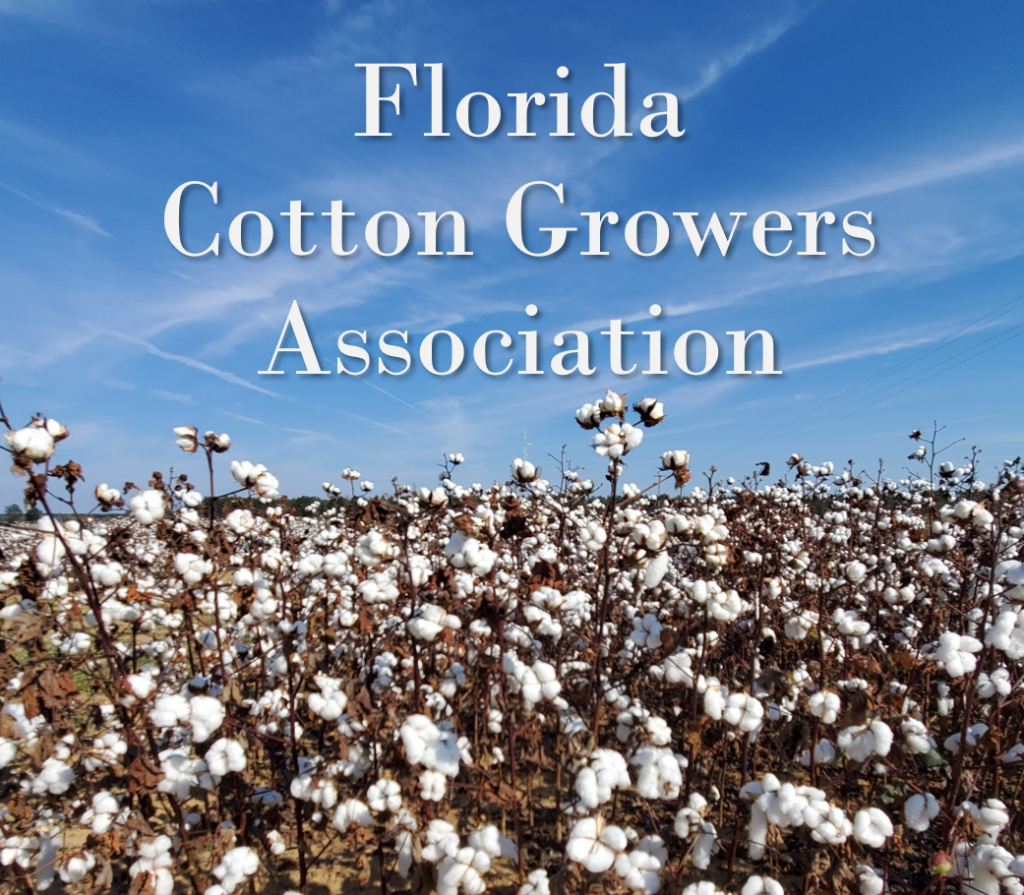 President James Marshall, Florida Cotton Growers Association, invites you to a producer listening session to discuss policy, research, education, and promotion of Florida Cotton.
–



March 29, 2023, 10:00 am-12:00 pm CDT
Jay Community Center, 5259 Booker Lane, Jay, Florida 32565

March 30, 2023, 10:00 am-12:00 pm CDT
UF/IFAS Extension Jackson County, 2741 Penn Ave., Marianna, FL 32448

March 30, 2023, 4:00 pm-6:00 pm EDT
Farm Bureau Insurance, 407 Dowling Ave. SE, Live Oak, FL 32064

–

For more information contact:  Madeline Wright – 850-557-3871 – madeline.wright@ffbf.org

Download a printer friendly version of these event announcements:  FCGA 2023 Tailgate Announcement
---

The Florida Cotton Growers Association held its Inaugural Annual Meeting Thursday, July 14, 2022. The Association is organized for promotional, educational, scientific and agricultural purposes:
To promote and protect the interests of the Florida cotton industry.

To unite all persons engaged or interested in the production, marketing, distribution, and utilization of cotton.

To encourage the interest of federal, state, and local governments, experiment stations, and industry throughout the state to further promote educational and scientific projects which will aid the entire cotton industry in the state.

To encourage proper cultural and cultivation practices and soil conservation in the production of cotton.
–
Policy
It is critical that cotton producers have access to 1) an effective commodity policy that provides price/revenue protection to address prolonged periods of low prices; and 2) a strong and fully accessible suite of crop insurance products that producers can purchase to tailor their specific risk management needs.

Since 2018, according to USDA, cotton costs of production have increased by 19 cents per pound, based on an average yield of 850 pounds per acre. Despite higher production costs and the subsequent increases in financing needs, the maximum level of the loan rate has remained at 52¢ since 2002. New farm law should seek to better meet the cash flow needs of producers, while also improving the critical marketing and flow aspects of the loan program.
–
Research
Your producer research investment has provided a steady increase in variety yields over the past 15 years as well as improvements in fiber quality for US production. With the majority of US production exported, improved fiber quality has increased the reputation of US cotton production as consistent suppliers of high-quality cotton.
Minimalization of root-knot and reniform nematode threats have resulted from discovery and commercial development of genes and molecular markers based on research conducted at several universities and USDA labs.
CLRDV identified in the Southeastern US near Florida border, lead to multi-disciplinary group of researchers to quickly join together to study the pathogen's affect in Upland cotton.
Ramularia leaf spot, a disease that has caused widespread yield loss in Brazil, has prompted US based researchers to study its movement across the Southeast. This research is being led by one of our own University of Florida researchers.
FOV4, a soil inhabiting fungus that has caused a 90% reduction in Upland acreage in California over the past 2 decades, is a serious threat, becuase there is no resistance. Once only confined to California crops, 2017 FOV4 was discovered near El Paso, Texas. Cotton Incorporated conceived and built a private/public sector partnership to address the issue. In just 5 years, highly FOV4 resistant germplasm has been publicly identified and released, and more importantly, genes for resistance and tightly linked markers developed so breeders can more effectively select in their programs.
–
Promotion
The US Cotton Trust Protocol was developed to communicate to brands, retailers, and the public-at-large Upland cotton's sustainability story, correcting long held viewpoints about the cotton productions that was distorted and not fact based.
–
–


Florida Cotton Growers Association Board of Directors
District 1:
James Marshall-President, Okaloosa County
Paul Griswold and Ryan Jenkins, Santa Rosa County
Scott Walker-Vice President, Escambia County
District 2:
Josh Davis, Washington County
Larry Ford and Mike Jordan, Jackson County
Lance Jackson, Holmes County 
Henry McCrone, Calhoun County
District 3:
Clay Fulford, Jefferson County
Member-At-Large:
Phillip Marshall, Santa Rosa County
Latest posts by Libbie Johnson
(see all)