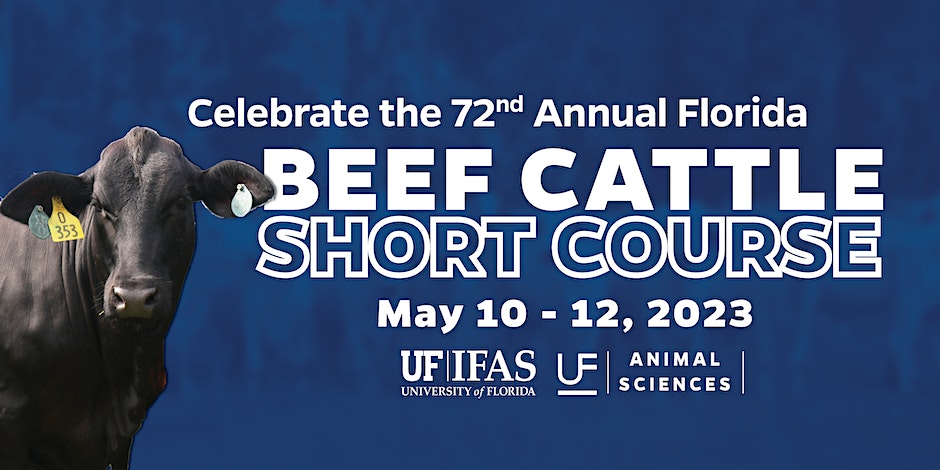 The 72nd Annual Beef Cattle Short Course will be held on May 10-12, 2023.  The organizing committee is excited to offer a dynamic program with renowned speakers of relevance for the Florida Beef Industry. As in previous years, the program will start on Wednesday after lunch (1:00 PM) and will adjourn Friday at noon.
This year's Short Course will focus on nutritional and management strategies that can enhance the profitability and sustainability of the beef industry. The program includes lectures from renowned guest speakers and outstanding University of Florida faculty members, including research updates, hands-on activities, and plenty of opportunities for networking. See the complete agenda below, or download and print the complete agenda using the following link:  2023 UF Beef Cattle Short Course. The UF/IFAS Animal Science Department is looking forward to visiting with you at the 2023 Beef Cattle Short Course, the premier educational event for the Florida Beef Industry.
During this event, the Department of Animal Sciences will offer the annual UF Brahman Bull and Brahman Heifer Sale, including on-site viewing of animals.
Wednesday, May 10




Location: Straughn Professional Development Center



12:00 Registration
1:00 Welcome – John Arthington, Professor & Department Chair – Nicolas DiLorenzo, Professor, University of Florida
1:15 Florida Cattlemen's Association Welcome – Wes Carlton, President, Florida Cattlemen's Association
1:30 Market Outlook – Trey Warnock, Amarillo Brokerage Co. LLC
2:15 What do Feedlots Want from Florida Calves? – Alfredo DiCostanzo, University of Nebraska
3:00 Refreshment Break
3:30 Capture More of Your Calves' True Value – Paul Beck, Oklahoma State University
4:15 Is Cottonseed Going to Make My Bulls Infertile? – Lawton Stewart, University of Georgia

Location: UF/IFAS Beef Teaching Unit South
5:00 Cookout, Tradeshow, and Bull & Heifer Sale Preview

Thursday, May 11




Location: Straughn Professional Development Center
8:30 Use of Brewery Byproducts in Beef Cattle Nutrition – Deidre Harmon, North Carolina State University
9:10 Horn Flies and Their Impact on Performance – Ted Burgess, University of Florida
9:40 The True Value of Gain – Todd Thrift, University of Florida
10:10 Refreshment Break
10:30 Beef on Dairy: Dan Dorn's Perspective & Outlook – Dan Dorn, ABS Global Inc., Deforest, WI
11:00 How to Add Value to Calves in Backgrounding Programs – Jason Smith , Texas A&M University
11:30 Travel to the UF/IFAS Beef Teaching Unit South

Location: UF/IFAS Beef Teaching Unit South
12:00 Lunch
1:30-4:30 Rotations
1. Multibreed Herd & Cow Size – Todd Thrift & Jesse Savell, University of Florida
2. Liquid Feeds & Feed Delivery Equipment – Nicolas DiLorenzo, University of Florida
3. Pasture Weed Management – Mark Mauldin, University of Florida
4. Hay Delivery Structures & Waste – Alfredo DiCastanzo, University of Nebraska
5. How much Supplemental Feed do I Need? – Doug Mayo, University of Florida
6. Practical Feed Storage Options – Bob Simon, Furst McNess

Location: UF/IFAS Horse Teaching Unit
5:00 – 6:00 Cocktail Hour & Tradeshow
6:00 Steak-Out & Tradeshow

Friday, May 12




Location: Straughn Professional Development Center
Research Updates
8:30 Genomics to Phenomics Integration to Predict Feed Efficiency in Beef Cattle: Year 2 – Angela Gonella, University of Florida
8:45 Updates on UF Brahman Project – Fernanda Rezende, University of Florida
9:00 Improving the Accuracy of Genomic Selection for Carcass & Meat Quality – Raluca Mateescu, University of Florida
9:15 Algae as a Protein Supplement for Cattle – Nicolas DiLorenzo, University of Florida
9:30 Predicting Puberty in Brahman Heifers & Bulls – Mario Binelli, University of Florida
9:45 Fatty Acid Supplementation to Increase Pregnancy Rates in Multiparious Beef Cows – Philipe Moriel, University of Florida
10:00 Refreshment Break
10:30 UF Gainesville Forage Breeding Update – Esteban Rios, University of Florida
10:45 Animal Performance & Methane Emmissions of Cattle Grazing Stockpiled Limpograss Under Different Supplementation Strategies – Jose Dubeux, University of Florida
11:00 Impact of Individual Macronutrients on Broomsedge Densities in Bahiagrass Pastures – Brent Sellers, University of Florida
11:15 Evaluating the Agronomic & Environmental Impacts of New FL-DEP Biosolids Rule – Maria Silveira, University of Florida
11:30 Impact of Implant Strategy on Brahman Sired Steer Performance,Carcass Traits, & Tenderness – Todd Thrift, University of Florida
11:45 Screening of Bahiagrass Breeding Lines to Identify New Varieties for the Florida Cattle Industry – Lynn Sollenberger, University of Florida
12:00 Adjourn