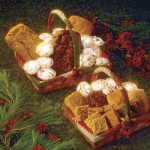 Christmas is a joyous season. It's a time to remember friends and neighbors with small tokens of your love and appreciation.
Every holiday season is magical, but it also can be a perplexing time. How do you choose gifts for your friends and loved ones that are unique and sure to be cherished?
Remember Christmas when you were young? How the simplest projects—stringing lights, hanging icicles, baking cookies, gathering pine cones, or making ornaments for the tree—filled the season with fun and excitement. Bring back that special magic with your own holiday projects. These holiday projects are gifts from the heart.
If you have spent many hours in past seasons trying to find the answer to the perplexing question of what to give, perhaps this year you can find the answer in your own kitchen. Flavorful gifts you can create in an evening or two at home might be just the solution. Most of us like to follow the pleasure of cooking with sharing the scrumptious results. So this holiday season, prepare some delicious food gifts for friends and relatives.
A jar of homemade jam or jelly conveys a welcome sign of friendship to neighbors or co-workers. Besides being fun to make and share, oven-baked goods, snacks, and other savory items are attractive and often cost less than those that are store-bought. This is a gift that comes from the heart without breaking the bank. For a holiday touch, add a pretty ribbon or a note from a square of wrapping paper.
Fresh from the oven, a batch of pumpkin muffins or a loaf of whole grain bread will send warm holiday greetings to friends. Decorated with raisins and nuts, gingerbread men will appeal to anyone who fancies the spicy flavors of cinnamon, ginger, and cloves. When invited to festive dinners, take along a basket filled with your own gift assortment of cookies packaged in inexpensive containers with recipes and a personalized message included. You will find these gifts easy to transport and the hostess is sure to appreciate the gesture.
Another gourmet goodies idea to consider is sharing a decorative jar or tin packed with flavorful popcorn or a nutritious trail mix. Top a decorative tray with herbed cheese rounds. Herbs offer a delicious alternative to salt. Herb seasoning mixes can be packaged in a decorative glass jar or bottle and tied with festive ribbon. Be sure to attach a label with instructions for serving and a recipe for making more.
When making these gourmet goodies, you might want to prepare an additional batch so you will have a last-minute gift on hand. The additional jar of jam or jelly can make a special gift for unexpected visitors. These gifts are seen as thoughtful and well-prepared when, in reality, they are a last-minute thought.
Start early and make lots of homemade goodies for the holidays. By planning your kitchen gifts early, you can shop for ingredients on sale, save decorative containers, and make food items in advance. So get a head start on holiday gifts from your kitchen. Happy Holidays!
Latest posts by Dorothy C. Lee
(see all)