July is National Grilling Month, and there is nothing quite like the aroma of delicious food sizzling on the grill. However, it is important to prioritize safety when it comes to outdoor cooking to avoid any accidents or mishaps. Whether you are a seasoned grill master or a novice, here are six essential grilling safety tips to keep in mind for a worry-free barbecue experience.
Choose the right location. Selecting the appropriate location for grill setup is crucial to ensuring the safety of people and property. Place the grill on a stable, non-flammable surface, such as concrete or bricks, and ensure it is a safe distance away from any flammable objects like trees, fences, or wooden structures, or heat-sensitive objects like vinyl siding. Avoid grilling in enclosed spaces, such as garages or covered patios, as it can lead to carbon monoxide buildup. Carbon monoxide is an odorless, colorless gas that can cause death if inhaled in a large enough quantity. Grilling in open spaces will allow this gas to dissipate to safe levels.  
Keep a safe zone. Establish a designated "safety zone" around the grill to prevent accidents and injuries. Create a clear area of at least three feet in all directions, free from children, pets, and any foot traffic. This zone will provide a buffer between the hot grill and any potential hazards, reducing the risk of burns or accidental contact.
Practice proper handling of propane. When using a gas propane grill, it is essential to handle the propane cylinder with care. Always inspect the cylinder for any signs of damage, rust, or leaks before connecting it to the grill. When transporting or storing propane cylinders, ensure they are in an upright position and never place them in hot or enclosed spaces. When connecting or disconnecting the cylinder, make sure all burners are turned off, and never smoke or place any other open flames (such as citronella candles) near the grill.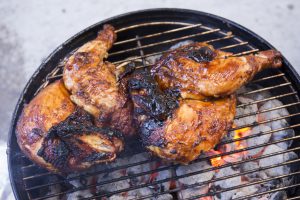 Follow proper food safety practices. Safe food preparation practices are just as important as the grilling process itself. Avoid cross-contamination by using separate cutting boards, utensils, and plates for raw and cooked foods. Keep perishable items refrigerated until they are ready to be cooked, and don't let them sit out in the heat for too long. In hot summer temperatures, food should not sit out longer than two hours. If the temperature is 90 degrees F or higher, the time limit is one hour. Use a food thermometer to ensure that meats such as poultry are cooked thoroughly and reach the appropriate internal temperature to prevent foodborne illnesses. Contact the Extension office for a list of proper internal cooking temperatures for different food types.
Monitor the grill. Never leave the grill unattended while it is in use. Grilling requires constant attention to avoid accidents and flare-ups. Stay vigilant and keep a close eye on the grill at all times. Keep a fire extinguisher nearby, ideally a Class B or multipurpose one, and know how to use it effectively. In case of a grease fire, never use water to extinguish it, as it can cause the flames to spread. Instead, use baking soda or a fire extinguisher specifically designed for grease fires.
Clean the grill. Maintaining a clean grill is not only essential for food safety but also for preventing flare-ups and extending the life of the grill. After each use, scrub the grates with a grill brush to remove any residue. Additionally, periodically inspect and clean the burner tubes and ports to prevent clogs and ensure proper gas flow.
By following these six grilling safety tips, outdoor cooking can be safe and fun.
UF/IFAS is an Equal Opportunity Institution.