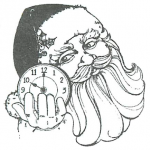 It's the season to be jolly, but for many of us it's the season to be overstressed as well. If getting ready for the Holidays is beginning to feel like a full-time job, start rethinking your holiday plans and consider streamlining, or even scaling back, some of your activities.
Following are some holiday survival tips that can help you save time and money, and preserve the holiday spirit in your heart.
A few shopping strategies can help you save time and reduce the hustle-bustle stress. Shop early in the month and early in the day.
Take advantage of free gift boxes and free or low-cost wrapping services. Wrapping presents can take as much time as shopping for them.
Shop online and have the company wrap and ship gifts directly to recipients. Make sure you are shopping on a secure site. Look for the padlock icon.
Simplify gift giving by choosing a theme. For example, buy a book or a sweater for everyone on your list.
Suggest exchanging cards instead of gifts at the office.
To keep packages sorted, wrap all of each person's gifts in the same wrapping paper color or pattern.
Instead of exchanging gifts with a friend you haven't seen in a while, suggest a Dutch treat lunch date at a nice restaurant.
Call a family meeting or, if family members are distant, arrange a conference call, or a mass text or email to discuss gift giving. You are probably not the only one who wants or needs to scale back on gifts. Strategies to discuss include drawing names so each individual buys a gift for only one person; giving family gifts; or giving gifts only to the children.
Establish a spending limit and stick to it. If your holiday cash is limited, make gifts well in advance or think of creative ways to give of your time AFTER the holidays.
Simplify your plans. You don't need to decorate every room in your house or give gifts to everyone who sends you one.
Reduce your entertaining requirements. Plan a themed potluck instead of dinner parties for which you are responsible for all the food. The same goes for family get-togethers. Ask each participant to contribute a dish for the meal.
Keep your priorities straight:  take time to think about what is really important to you; be realistic about how much you can do; don't be afraid to say no.
Setting priorities will help keep your schedule manageable. Draft a schedule that includes all the tasks you have to complete, how long you think each task will take, and when each needs to be done.
Most importantly, enjoy the holidays!
For further information contact:
Dorothy C. Lee, C.F.C.S.
UF/IFAS Extension Escambia County
3740 Stefani Road
Cantonment, FL 32533-7792
(850) 475-5230
For additional information, go to the University of Florida Solutions for Your Life website, http://www.SolutionsForYourLife.com
Latest posts by Dorothy C. Lee
(see all)