Marie Arick is in her second year as the UF/IFAS Liberty County Extension Director and 4-Agent. She also is the Family and Consumer Sciences Agent for both Liberty and Calhoun Counties. Marie has been with University of Florida IFAS since 2015, originally serving as the Family and Consumer Sciences Agent in Jackson County. She received her B.S. in Exercise Science and M.S. in Health Promotion from Mississippi State University. Her Extension specialty areas are health, wellness, food and nutrition, and 4-H youth development.
Marie has provided many nutrition, food safety, and health and wellness educational programs/events including A Healthy Table Cooking School, Artisanal Cheese Making, Prevent T2: The National Diabetes Prevention Program, First-time Homebuyer, and the Annual Heart and Sole 5K. Her programming efforts in 4-H have included Food Challenge, Culinary Arts, Leadership, Community Service, and a variety of day camps and residential camps. Before joining UF/IFAS, Marie was employed with Texas A & M AgriLife Extension Service, where she was the Eastland County Extension Director and Family and Consumer Sciences Agent while also supporting 4-H programming.
Marie shares what she enjoys most about her career: "Being an Extension Agent is such a rewarding career, not only do I provide research-based education in my community, but I also reap the reward of watching participants gain knowledge, learn new skills, and apply those skills. I love having people share how they have improved their lives or used what they have learned. Some examples are a positive health outcome, achieving home ownership, successfully competing in a judging competition, or learning to prepare a new recipe."
Contact Marie at 850-643-2229, jmarick@ufl.edu, or at her office located in the Liberty County Civic Center at 10405 NW Theo Jacobs Way, Bristol.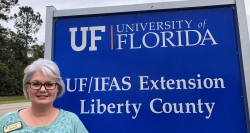 Latest posts by Marie Arick
(see all)