Melanie Taylor grew up in Virginia. After getting married in January 2009 and wanting to support her husband's career in Panama City, she officially moved to Bay County. Melanie received her bachelor's degree from Radford University. She then furthered her education with a M.S.Ed from Virginia Tech in 2004 while working full time for Virginia Cooperative Extension. She followed in her Dad's footsteps by becoming a 4-H youth development Extension agent and worked with Virginia Extension for over eight years. Upon moving to Bay County, she worked in Gulf County as the 4-H and Family & Consumer Sciences Extension Agent for 10 years. She transferred to UF/IFAS Extension Bay County in December 2019. Her FCS focus areas are health and wellness, prevention of chronic diseases, and strengthening families within our communities.
Melanie is very excited to now work within the community in which she lives and to assist with helping Bay County residents recover from Hurricane Michael and Covid-19 damages. Be sure to contact Melanie if you have any needs in the area of family and consumer sciences. She is ready and willing to answer questions and design programs virtually for now and face-to-face in the future.
Like so many in Bay County, Melanie's home in the Cove was severely damaged by Hurricane Michael, but she is excited to announce they finally moved back into their repaired home on September 26. She and her family could not be happier (her family includes husband Bryan and their two cats, Sonny and Cali). Outside of work, Melanie is active in the Junior League of Panama City. It is very likely you will see her out and about with her husband at local events.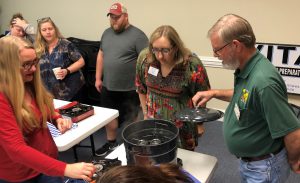 Melanie Taylor, Family & Consumer Sciences, Bay County
Latest posts by Melanie Taylor
(see all)