The American Heart Association notes that cholesterol is "not inherently bad" and continues by explaining how cholesterol is necessary to "build cells, make vitamins and other hormones."
Cholesterol is not only derived from your dietary intake, what you eat, but also your liver makes cholesterol. There are two types of cholesterol, low density lipoprotein or LDL and high density lipoprotein or HDL. The LDL or 'lousy' cholesterol contributes to atherosclerosis, the build up of fat in the arteries. The HDL or 'helpful' cholesterol aids with removing the lousy cholesterol out of the arteries and taking it to the liver for it to be removed from the body.
Being proactive with one's health and knowing your numbers, one can better maintain a higher quality of life and potentially suffer less infirmities.
Join us for the upcoming Exploring Your Health Indicators Webinar Series to gain knowledge of your blood tests results. The May 11 program will explore cholesterol. The May 25 program dives into inflammation and diseases. And the June 8 program will wrap the series with kidney and thyroid health indicators. Register once for all the sessions and if you miss a session, a recording of the program will be emailed to you. Invest an hour to gain knowledge that can greatly benefit your health.
Exploring Your Health Indicators     Registration:  https://tinyurl.com/zw28bt4z
Tuesday, April 27, 2021, 2-3 EST/1-2 CST – Diabetes and Metabolic Syndrome
Tuesday, May 11, 2021, 2-3 EST/1-2 CST – Cholesterol
Tuesday, May 25, 2021, 2-3 EST/1-2 CST – Inflammation and Diseases
Tuesday, June 8, 2021, 2-3 EST/1-2 CST – Kidneys and Thyroid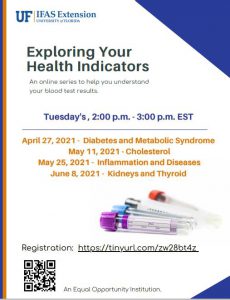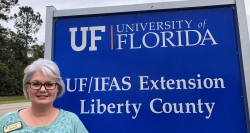 Latest posts by Marie Arick
(see all)