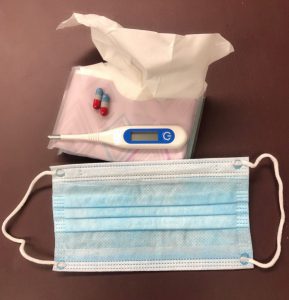 The 2022 flu season is running at full speed and many of us will be spending more time inside due to colder temperatures, traveling, and gathering throughout the holiday season, which means we have a much better chance of coming in contact with people who may have the flu.
The flu is a contagious respiratory illness caused by influenza viruses that infect the nose, throat, and lungs. Flu viruses cause illness, hospital stays, and deaths in the U.S. each year. The flu can vary from mild to severe, so be sure to protect you and your family appropriately. Along with being vaccinated, other ways to avoid the flu include staying away from people who are sick, covering your coughs and sneezes by coughing and sneezing into your elbows, not your hands, washing your hands often with soap and water, and not touching your eyes, nose, and mouth.
Be Aware of Flu Symptoms:
Fever or feeling feverish/chills
Cough
Sore throat
Runny or stuffy nose
Muscle or body aches
Headaches
Tiredness
Some people may have vomiting and diarrhea, though this is more common in children than adults.
It's important to note that not everyone with flu will have a fever.
Let's Talk Facts About the Flu Vaccine:
It can keep you from getting sick with flu.
It can reduce the severity of illness in people who get vaccinated but still get sick.
It can reduce the risk of flu-related hospitalization.
It is an important preventive tool for people with certain chronic health conditions.
During pregnancy, the flu vaccine can help protect pregnant women from the flu during and after pregnancy and helps protect their infants from flu in their first few months of life.
It can be lifesaving to children.
Getting yourself vaccinated may also protect people around you, including those who are more vulnerable to serious flu illness, like babies and young children, senior adults, and persons with certain chronic health conditions.
It's important to note it takes two weeks for the vaccine to become fully effective.
Only about 50% of Americans get an annual flu shot. There are so many more people that could prevent hospitalizations, severe flu illness, and even flu deaths if they would get vaccinated. The science is strong and the flu vaccine has been available to the public since 1945 after the U.S. government researched its safety and efficacy on the U.S. military. The flu vaccine is highly recommended by doctors for children, adults, and senior adults. If you have a chronic health condition, it is even more important for you to get your flu vaccine and protect yourself and your family from flu exposure. Let's all consider getting the flu vaccine in 2022 and 2023 to prevent severe illness, save lives, and to have a happy, healthy New Year.
Reference: www.cdc.gov
Latest posts by Melanie Taylor
(see all)