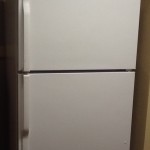 Do you have food containers growing green fuzzies in the back of your refrigerator? It's easy for leftovers and other food items to overstay their welcome in the fridge, creating a food safety hazard as well as unnecessary clutter. With Thanksgiving and the start of the holiday season just around the corner, now is the perfect time to super-clean your refrigerator. Follow these tips to get your refrigerator ready for Thanksgiving leftovers and other holiday treats:
Remove everything from the refrigerator.
Examine each container – discard outdated leftovers and any items of whose age you are uncertain or you don't plan to use in the near future.
Remove shelves, drawers, and bins. Wash with a solution of baking soda and warm (not hot) water.
Clean the interior of the refrigerator with baking soda and warm water. Dishwashing detergent can leave a residue that can lead to odors if not rinsed thoroughly. Dry with a soft cloth or paper towel.
Clean each container before returning it to the refrigerator.
Wash the outside of the refrigerator with sudsy water (using hand dishwashing detergent), rinse, and dry. Wash the gaskets around the refrigerator doors – sticky gaskets can cause air leaks, costing you more energy over time.
Vacuum the dust off the condenser coils, usually on the back of the refrigerator, or under it. Dirty, dusty coils make the refrigerator work harder to cool and use more energy, costing you more money.
Remove and clean the "pan" or plastic tray at the very bottom of the refrigerator that collects the condensation or defrost water. Look in your care manual to find where this "pan" is located. Dust and moisture in this "pan" can cause mold to grow, causing health problems for people with allergies.
Clean the floor around and underneath the refrigerator.
Your fridge is now ready for the holidays!
Sources: My Florida Home Book – Taking Care of Your Home, Chapter 5. Taking Care of Indoor Features, University of Florida/IFAS Extension, 2008.