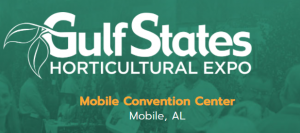 Here in Northwest Florida, finding horticultural supplies and plant material available locally is a challenge.  Due to our location, looking to the neighboring states is very practical.  A great resource to fill these needs is The Gulf States Horticultural Expo (GSHE) trade show and education event for green industry professionals will be held in Mobile in January, 2022. Attendee profiles include wholesale growers, landscape professionals, retailers, manufacturers, and distributors. Produced in partnership between the Alabama Nursery & Landscape Association (ALNLA), the Mississippi Nursery & Landscape Association (MNLA), and the Louisiana Nursery & Landscape Association (LNLA), the Expo's goals are to increase commerce, networking, and professional development among the green industry and allied suppliers. Since the first Expo in 1999, GSHE has grown to become THE premier winter trade show of the South.
Educational Opportunities:
Awareness of pest problems present in neighboring states helps Northwest Florida green industry personnel develop more effective scouting programs. On Wednesday, January 19, 2022 researchers, professors and faculty from well-known Southern universities and colleges across the United States will present valuable information during the Pest Management education session. You can earn up to 8 Florida CEUs in multiple categories including all the Lawn & Ornamental, Demo & Research, Forest Pest, Natural Areas, Ag Tree, Private Applicator, and Right-of-Way.  Please note that no CORE CEUs will be available at this event.
If learning more about business management or new plant varieties appeals to you, plan on attending the Business and Culture or Plant Conference session. Jeff Manus from the University of Mississippi delivers a two-part session on Weeders to Leaders during the business training.  Speakers from Southern Living, Bracy's Nursery, Proven Winners, Louisiana State University, Ball Horticultural Company and Plant Development Services will introduce new and exciting plant selections for 2022 during the plant conference.
If landscape design is your passion, spend all day Wednesday through Friday with Richard Ludwig and Bill Slack in the Landscape Design sessions.  Learn the fundamentals of profitability, color graphics and how to create the ultimate landscape design over the three days.
For more information and to register go to:  https://www.gshe.org/schedule.cfm
Latest posts by Sheila Dunning
(see all)