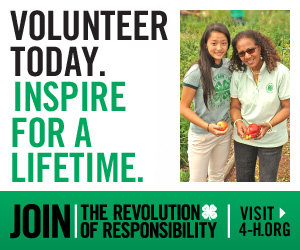 4-H volunteers are essential to help youth make the most of a wide variety of learning experiences.  As a volunteer, you can share your personal interests and expertise in a variety of subjects including gardening, shooting sports, robotics, animal science, sewing/crafting, public speaking, foods and nutrition, and much more.  In 4-H, you can leverage your experience and skills to help a young person find their own passions and interests.
You decide your level of involvement to fit your schedule:
4-H is an opportunity we wish every young person could have because research shows it is a step forward.  More than 60 million of our nation's most successful statesmen, business leaders, and scientists credit 4-H with setting them on a positive, productive path.
Compared to their peers, 4-H youth are:
2X as likely to go to college

2X as likely to pursue a career related to science

More likely to make healthier choices, be physically active, and avoid risky behaviors

3X as likely to give back to their communities
When you share your experiences with 4-Hers, you make a difference by helping youth become caring and competent citizens.
4-H offers a flexible experience where you decide your level of involvement
Nearly 90 percent of 4-H volunteers are satisfied with their volunteer role
4-H needs caring, active volunteers to provide hands-on guidance and mentoring
4-H needs volunteers with a range of backgrounds and skills
If every young person could step into 4-H, imagine all the resourceful problem solvers, skilled workers, and capable leaders they'd become.  That future is in our reach if we all lend our time and talents to guide the young people who will create it.  Make the investment of a lifetime- become a 4-H volunteer, and inspire the next generation!