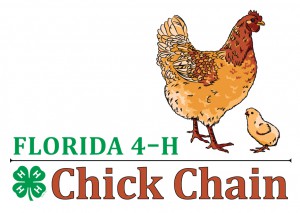 4-H Chick Chain is a program designed to help youth learn how to raise baby chicks into mature production pullets. Youth learn responsibility, ethical treatment of animals, biosecurity, record keeping and communication skills.
Youth purchase or hatch pullets during March 2019, register their project and raise the chicks for 21 weeks.  They'll participate in workshops learning how to care for their chicks, show hens and complete project books and participate in a show in September.
The Florida 4-H Chick Chain is open to 4-H members in the northwest district 5-18 (as of September 1st, 2018).  Contact your local UF/IFAS Extension Office if you have questions.  Read about last year's show on our blog.
REGISTRATION
Open in 4HOnline March 1-31, 2019
New projects – $20
Returning projects – $10 (hens from 2018's project only)
Siblings can share chicks but should register and complete project books individually

*NEW* – 

Purchase or hatch any number of chicks you choose from these breeds:

Australorp       Barred Rock       Brahma       Jersey Giant       Leghorn
Orpington     Rhode Island Red       Silky       Welsummer       Wyandotte
4-H CHICK CHAIN PROJECT RESOURCES
2019 4-H Chick Chain Webinar 1 – Watch this video for helpful tips and reminders as you work through your project.
*Coming Soon!*  Getting Ready for the Show – this video will cover all the information you need to pack your show kit, prepare your hens and prepare yourself for showmanship and skill-a-thon.
Bio-security Basics Poster – ask for a laminated copy from your 4-H Agent
PROJECT BOOKS – you will receive a project book with an official 4-H project book cover from your 4-H Agent.
If you are a returning chick chain project member, you'll use the production book, and place it behind your previous project book records.  Youth can participate 4-H Chick Chain project multiple years; just add the records to the back of your current book.
SHOW RESOURCES
IMPORTANT DATES (see youth guide for a detailed timeline):
March 1-31- Register for Chick Chain in 4HOnline & pay registration fee to your 4-H Agent
March 1-31- Purchase or hatch your chicks
Summer – Attend Poultry Perfection Workshops

July 10 – 6263 Dogwood Drive, Milton, FL 32570
June 4 – 1424 Jackson Ave, Chipley, FL 32428
July 27 – 84 Cedar Avenue, Crawfordville, FL 32327

August 23 – Re-enroll in 4-H and pay your FL 4-H Membership Fee
August 26-September 13 – Register for the 4-H Chick Chain Show in 4HOnline
September 13 – Project books and photography entries due to your 4-H Agent
September 28 – 4-H Chick Chain Show – 1424 Jackson Ave, Chipley, FL
QUESTIONS?  Here are your county contacts: