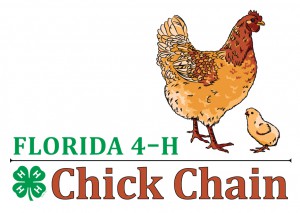 4-H Chick Chain is a program designed to help youth learn how to raise baby chicks into mature production pullets. Youth learn responsibility, ethical treatment of animals, biosecurity, record keeping and communication skills.
Youth purchase or hatch pullets during the fall. While raising the pullets to maturity, they'll participate in workshops learning how to care for their chicks, complete record books, and showmanship. The culminating event is a spring show where the hens and record books are judged and youth compete in showmanship. First-time participants also compete in a skill-a-thon to demonstrate their poultry knowledge. Returning members embark on Avian Adventures- where they elect to do a demonstration/illustrated talk or an entrepreneurship project.
The Florida 4-H Chick Chain is open to 4-H members in the northwest district 5-18 (as of September 1st).  Check out this overview video:
REGISTRATION
4-H CHICK CHAIN PROJECT RESOURCES
Everything you need to know is on the 4-H Chick Chain website- this is a "one stop" shop for important project dates, workshop information, show information, and how to prepare for the skill-a-thon.
Contact your local UF/IFAS Extension Office if you have questions.  Read about last year's show on our blog.