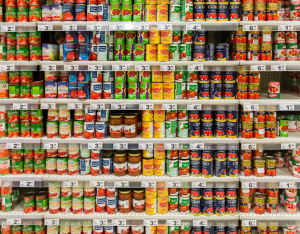 Sometimes canned foods get a bad rap. Often, concerns are valid because canned foods tend to be high in unwanted salt and/or sugar. The good news is that you can buy fruits canned in their own juice and vegetables or beans labeled "low-sodium or" no salt added". By draining and rinsing your canned produce with water, you can also lower the sodium or sugar content and have a healthful – and inexpensive – solution to balancing your child's nutritional needs. For example, draining and rinsing canned beans lowers their sodium levels by as much as 41 percent.
We know that buying local fresh fruits and vegetables in season is a smart idea but kids can be picky. The Brussels sprouts or turnips that are available in the winter might not appeal to a child who only wants peaches. Benefits of buying canned foods include:
Most canned fruits and vegetables are packaged within hours of being picked. This means the foods keep their peak flavor and nutrients.
Canned fruits and vegetables are peeled, cut and ready to use in recipes. They "get you there" quicker and easier, usually with the same or even more nutrition than fresh or frozen. For example, did you know that canned pumpkin has three times more Vitamin A than fresh pumpkin?
Canned fruit and vegetable selections are available year-round. Canned foods can offer reliable, great-tasting ingredients when fresh produce is not in season.
Canned foods can be used in recipe "hacks" to improve nutrition. ("Hacks" are tricks that aid in the preparation or reduce the cooking time in recipes.) For example, soups can be thickened with a combination of pureed canned white beans and low-sodium vegetable or chicken stock instead of the traditional – and fattening – flour and butter. Canned evaporated skim milk can be used in equal amounts to replace cream in recipes for a fraction of the fat content.
All in all, canned foods can be used in any season to create a healthy plate. Just watch the sugar and salt content to create inexpensive, healthful and tasty meals your kids will love!
References:
Kendall, A.R. and Dahl, W.J. (2015). Shopping for Health: Vegetables. University of Florida/IFAS electronic publication: edis.ifas.ufl.edu/fs165.
Jones, J.B., and J.R. Mount. (2009). Sodium Reduction in Canned Bean Varieties by Draining and Rinsing. 209. Institute of Food Technologists Conference Poster. Anaheim, California.
Tavoletti, R. (2015). The Time is "Ripe" for Canned Food. Canned Food Alliance. http://www.mealtime.org/article/the-time-is-ripe-for-canned-food.aspx?siteLocation=c8e9a60a-8e4d-45ef-9434-624be5cbf61b
Lydon, K. (2015). It's No Trick, Treat Yourself to Better Nutrition with These Recipe Hacks. Canned Food Alliance. http://www.mealtime.org/article/its-no-trick-canned-food-recipe-hacks.aspx?siteLocation=c8e9a60a-8e4d-45ef-9434-624be5cbf61b .
Latest posts by Ginny Hinton
(see all)