As the holiday season quickly approaches many people become overwhelmed with all of the activities, decorating, and shopping that needs to be completed. Here are a few tips to save energy, time and your nerves.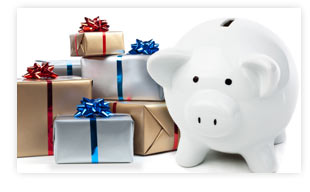 Let's begin with 5 Steps to Seasonal Savings:
Recognize Your Seasonal Stressors:  Know your personal stressors—such as family, friends, work, travel, social outings and traditions (both old and new)—then you can be less stressed this holiday season.  Marketing ploys sneak into every stressor, and retailers want to ensure they get their piece of the holiday pie by using marketing gimmicks to lure you into shopping with them. Do you find yourself with the overwhelming desire to get everything on your child's list? If so, consider going without a list or setting limits, and communicate with your child. Often, parents do not involve their children in the holiday spending process. Children need help recognizing when and how they have been targeted and persuaded to want the latest and greatest item. Children also need to understand that a budget is necessary and saying "no" to an overpriced item is okay.
Develop a Holiday Spending Plan—Make a Budget:  Ask yourself: How much have I saved? How much can I save before the holidays? Am I comfortable creating debt? Am I comfortable saying "no"?Start with knowing how much you can spend and create a spending plan, which is critical for successful money management for the holidays and all year long. A few dollars from your paycheck each week adds up quickly over a year. You can also take advantage of weekly automatic transfers into your bank account, or join a holiday savings club at a local credit union. If your holiday budget shows you are spending more money than you have, then you'll likely take on debt. If this is the case, you should also create a plan for paying off purchases made with credit. Prioritize your purchases and consider omitting purchases that require taking on debt.
Develop a Holiday Spending Plan—Create a List and Stick to It:  Make sure you have a list of everyone you plan to buy for during the holidays and of other additional expenses. Decorations, cards, postage, gift wrap, food/entertainment, and travel are additional costs that can drastically impact the holiday budget. Don't forget to use catalogs, internet surfing for comparison shopping, and barcode scanning apps. Shopping online also limits impulse purchases, and it allows you to avoid long lines, huge crowds, and the lure to eat out while shopping. Be sure to use coupons whenever possible, and be sure to take advantage of the year-end sales. Once you've researched and set your budget, you're ready to start shopping.
Alternatives to Pricey Presents:  If you have a large family, start by thinking outside the box. Consider a gift exchange by drawing names from a hat, which can allow you to put more thought than money into selecting a single gift. You can also buy a single gift for an entire family—perhaps an entertainment basket filled with DVDs and microwave popcorn. Oftentimes, thoughtful and more creative gifts can come from shopping with local businesses. Locally grown fruits and vegetables, honey, or an item from a local artist are just a few suggestions of local products. If you are feeling crafty, then you could make and give holiday arrangements such as centerpieces and decorations. Another idea for the holidays is to donate to a charity in someone's name instead of gift giving. You can even take the idea of giving to charity to your office. Pool money you would have spent on gifts with your participating colleagues, draw a colleague's name, and donate the money to a charity of his or her choice. Another gift idea for close friends and/or family is the "gift of time." Create a coupon book or certificate that gives a loved one the gift of your time (a specific chore, a trip to the park, babysitting, slumber party for the kids).
Fine-Tuning Your Financials:    Use cash and/or debit cards when at all possible. Money coming directly out of your pocket will likely make you think harder about your purchase. If you are going to use a credit card, make sure you have a plan in place to pay it off when the bill is due. You also need to understand the allure of paying with credit. When you're not paying with "real" money, your buying can easily get out of control, and the shopping process may not seem as painful in that moment. It may be appropriate to tell your older children how much they each have in the budget for holiday spending. When the family is on the same page, it can alleviate some stress. Refocus your family's thoughts from the material goods to the real meaning of giving and receiving. Knowing your specific situation, making informed decisions, and communicating with loved ones can reduce the effects of holiday stressors.
Let's take a look at some affordable and DIY Christmas gifts that will be truly appreciated by the recipient.
For the gardener in your life: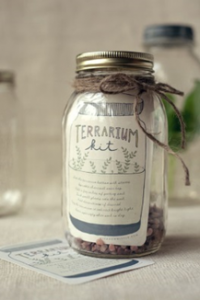 Terrarium Kit
Materials:
One – 3 1/2″ x 7″ canning jar with top
Small stones (enough to fill 1 inch in jar) You can buy pretty river rocks at your local garden shop or just collect some stones outside.
A few tablespoons of activated charcoal (found at any pet store's aquarium section)
1 small Ziploc bag
3 1/2″ x 5 1/4″ printed terrarium instructions card on card stock (download from witandwhistle.com or create your own)Step 2: Slide an instruction card into the front of the jar. Secure the card amongst the rocks. Step 4: If you're feeling crafty you could add a decoration or two (plastic or clay mini mushrooms, insects, gnomes, fairies, etc.) in your terrarium kit.
Step 5: Tie some twine or ribbon around the jar, and you're done. You don't even need to wrap it!
Step 3: Pour a few tablespoons of activated charcoal into a small Ziploc bag and add it to the jar.
Step 1: Put about an inch of small stones in the bottom of a jar.
For the spa lover in your life:
Basic Silk Bath Bomb
Materials: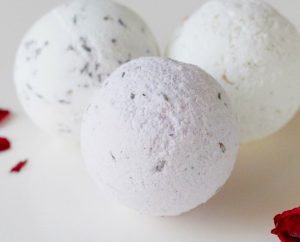 1 cup Citric Acid (found in canning section of grocery store)
3 cups Baking Soda
1 teaspoon Essential Oil (purchase at local health food store)
Witch Hazel Spritz (purchase in pharmacy section)
Dry Pigment Colorant – if using
Round mold to shape the bath bomb (Molds are round plastic ornaments found at your local craft store.)
Directions:
Blend the citric acid and baking soda—add colorant and fragrance oil.
Spritz, Witch Hazel onto your batch using a squirt bottle with one hand while stirring with the other until the bomb sticks together when squished. (it will have the consistency of wet sand)
Form the bomb in the molds.
Air-dry for 3 or 4 hours spritzing a few times – allow to set overnight (The Witch Hazel forms a crust on the outside that prevents them from cracking and falling apart; however, they're still fragile)
Wrap in tissue paper or cellophane. Tie a bow and you're done.
Other DIY ideas…homemade soaps, herb infused oils, jams and jellies, baked goods, hot cocoa mix, etc.
When we think of the holidays, we often think about family, togetherness, giving, and celebrating. While the holiday season should be a time of enjoyment, there are many events associated with the season that can cause stress. Remember, in the long run the memories will be of time spent together, not the gifts they received. So, be sure to plan ahead, take a deep breath, and enjoy the special holiday moments.
If you have further questions, please contact your local UF/IFAS Extension Office.
Resources:
"Five Steps to Seasonal Savings" – UF/IFAS EDIS Publication #FCS5267
"Managing Stress During the Holidays" – UF/IFAS EDIS Publication #FCS5266
witandwhistle.com