I don't know about you but to me it seems we just finished shopping for the holidays and they are here once again. Holiday shopping can be a whirlwind and we forget to take time to stop and think about how much we have spent until the bills arrive. Having a budget for the holidays can be your best defense to not overdoing it this holiday season.
If you plan for the holidays, it can save lots of time, energy, and of course, money. It is important to prepare a budget, make the budget realistic and base it on your cash flow and financial obligations. Once your budget has been created, stick to it!
The next step – make a list of gifts you want to give. When shopping, use cash whenever you can as this helps you watch how much you are spending. When you have reached your budget limit, your shopping should be done! If possible, do not use credit cards to buy gifts. If you use credit cards, keep track of the amounts and stop when you have reached your budget limit.
Gift cards appear to be great but be aware of fees or usage terms that can reduce the value of the gift. Before buying gift cards, ask if the card can be used for online purchases. This may not affect most retailers but some online retailers do not allow using gift cards.
If you want to stretch your budget, you don't have to purchase all of your gifts. Try making gifts such as food or give a coupon book volunteering your services (i.e. babysitting or yard work). Below is a mix ranch dressing recipe you can give to family and friends this holiday season.
To help with your shopping next year make your list early, then spread your shopping throughout the year.
Use these tips to help you enjoy your holiday.
Spoonful Mix for Ranch Dressing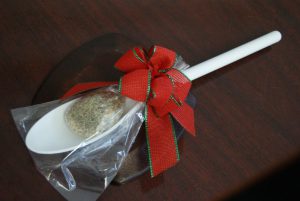 2    tsp. dried parsley flakes
1    tsp. salt free herb seasoning blend
½   tsp. garlic powder
¼   tsp. dried basil leaves
Mix all ingredients in small bowl.
Place mix in to plastic wrap and attach to spoon.
Decorate spoon with a pretty bow.
Ranch Dressing
Remove decorative wrappings from spoon, leaving the mix inside the plastic wrap and still attached to spoon.
Empty ½ cup low-fat mayonnaise and ½ cup low-fat buttermilk into a medium bowl.
Hold spoon over bowl and cut open bag of mix, allowing mix to fall into bowl onto mayo and buttermilk.
Mix until very well blended (use gift spoon to mix). Refrigerate 30 minutes up to 8 hours to blend flavors.
For more information on holiday shopping, contact your local Extension office.