Keeping your family's food safe is critical for our health – that's why September is designated as Food Safety Education Month.
Foodborne illness can occur when we eat contaminated food. In order to keep our food safe, we must follow safe food handling methods when storing and cooking foods.
Following proper food handling principles helps keep our foods safe from the contaminants that can cause foodborne illness. The Centers for Disease Control (CDC) recommends these 4 steps to protect your family from foodborne illness: Clean, Separate, Cook, and Chill.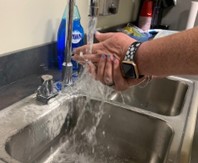 Clean: Wash Hands, Utensils, and Surfaces Frequently
Wash your hands and kitchen surfaces before you prepare any food. Always wash your hands for at least 20 seconds, using soap and warm water.
Remember: Germs can survive on surfaces in your kitchen, including on your hands, counters, utensils, and on cutting boards.
Separate: Avoid Cross-contamination
Cross contamination is common in the kitchen. Cross contamination is caused by transferring dangerous bacteria from raw foods to other foods and surfaces.
Remember: Separate any raw meat, along with poultry, seafood, and eggs and use separate, individual cutting boards. Make sure to wash cutting boards with hot soapy water in between uses.
Cook: Make Sure to Cook All Foods to the Right Temperature
Cook food to the proper internal temperature to eliminate germs and bacteria that can cause foodborne illness. Use a calibrated food thermometer to get an accurate temperature reading.
Bacteria can rapidly multiply when food is held at room temperature.
Remember: The Temperature Danger Zone is between 40°F and 140°F. This is the temperature range that best supports the growth of microorganisms like bacteria.
Chill: Properly Refrigerate and Freeze Foods
Keep your refrigerator at 39°F or below and your freezer at or below 0˚F.
Perishable foods, especially frozen meat, should never be thawed on the countertop or in hot water. Leaving meat out on the counter or in the sink while it defrosts allows the meat to reach temperatures higher than 40 degrees, the Danger Zone.
Remember: It is important to refrigerate perishable foods within 2 hours, or within 1 hour if food has been held at 90˚F or higher.
Anyone can get foodborne illness; however, older adults, children younger than 5, pregnant women, and those with a weakened immune system may be more likely to get sick from a foodborne illness.
To learn more about food safety, visit the Centers for Disease Control's website at https://www.cdc.gov/foodsafety/keep-food-safe.html.
The UF/IFAS Electronic Data Information Set or EDIS is a great place to find more information about food safety: https://edis.ifas.ufl.edu/entity/topic/food_safety.
Latest posts by Laurie Osgood
(see all)