It's the fall season, and Satsumas are hitting the shelves at your local grocery store. Satsumas are a seedless variety of the mandarin orange, and are harvested during the fall and early winter. Satsumas are grown in the cool, sub-tropical areas of California, Florida, Alabama, Louisiana, Mississippi and Texas. Because of their thin skin, satsumas are sweet and easy to peel. Whether you are buying satsumas from your local grocery store, farmers market or roadside stand, it is very important to purchase all of your citrus from a reputable vendor.
Satsuma Trees:
Satsuma trees are small to medium in size, and can easily tolerate the cooler fall temperatures that the Florida Panhandle is known for. Satsuma trees are relatively easy to grow and make an attractive addition to your home landscape. Picking fresh fruit off of your own tree provides a much fresher, and cost efficient treat. Satsuma trees are best started in a container and then transferred into the ground. When choosing a spot to plant a satsuma tree, remember that citrus trees need full sun.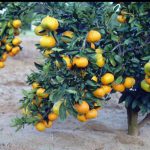 "Before planting any new plants, you should always conduct a soil sample, to determine if there are any issues in the soil where you will plan the satsuma tree" said DJ Wiggin, Small Farms Agent with the Florida A&M University Extension Program in Gadsden County. If you would like to request a soil sample test kit, you should contact your local UF/IFAS Extension office.
Fruit Bearing Season:
Satsuma oranges have a relatively brief fruit bearing season, between October and December. This short season give the satsuma oranges their rich flavor. A few nights with temperatures that drop into the 40s, help improve their sweetness. However, the fruit of the satsuma tree should be picked promptly when ripe, because the heavy fruit could cause damage to some weaker limbs of the tree.
According to DJ Wiggins, "When properly stored, satsumas have a shelf life of several weeks". Satsuma oranges can be juiced, eaten as a snack, or used in recipes, including Orange marmalade.
Recipe Source: Adapted from So Easy to Preserve, from the Cooperative Extension at The University of Georgia.
Orange Marmalade
Yields about 7 half-pint jars
• 4 cups thinly slices Orange Peel (about 6 large oranges or 32 Satsumas)
• 4 cups Orange Pulp, cut up (about 6 large oranges or 32 Satsumas)
• 1 thinly sliced Lemon (about 2 medium)
• 6 cups of Water
• Sugar (about 6 cups)
Directions:
To Prepare the Fruit- Add water and fruit together in a saucepan. Heat to simmer for 5 minutes. Cover and let stand 12 to 18 hours in refrigerator. Heat and cook over medium heat until peel is tender, about 1 hour. (Note: When peeling citrus fruits for marmalades, be sure to include some of the white membrane found just under the skin. This is where most of the pectin is located.)
To Make Marmalade– Sterilize canning jars. Measure fruit and liquid. Add 1 cup sugar for each cup of fruit mixture. Bring slowly to boil, stirring until sugar dissolves. Cook rapidly to the jellying point (25 minutes), stirring occasionally. Pour hot marmalade into hot, sterile ½ pint jars, leaving ¼ inch headspace. Wipe jar rims with a dampened clean paper towel and adjust lids. Process 5 minutes in a Boiling Water Canner.
Interested in Learning More about Canning Fruits and Vegetables? The Gadsden County Extension Program offers Water Bath Canning Classes throughout the year, to learn more, call us at (850) 875-7255.
Resources:
University of Florida IFAS Extension. The Satsuma Mandarin, Peter C. Andersen and James J. Ferguson, Revised November 2015
http://edis.ifas.ufl.edu/pdffiles/CH/CH11600.pdf
University of Alabama Extension, Satsuma Season: Enjoying the Christmas Orange, James Miles and Emma Sager, November 10, 2014
http://news.aces.edu/blog/2014/11/10/satsumaseason/
University of Georgia Extension: Citrus Fruit for Southern and Coastal Georgia, Krewer and Powell, Extension Fruit Specialists.
http://extension.uga.edu/publications/detail.cfm?number=B804
Recipe: Reynolds, Susan, Paulette Williams, Judy A. Harrison, and Susan J. Reynolds. So Easy to Preserve. Athens: Cooperative Extension Service, U of Georgia, College of Family and Consumer Sciences, College of Agricultural and Environmental Sciences, 2006. Page 218
The Institute of Food and Agricultural Sciences (IFAS) is an Equal Opportunity Institution authorized to provide research, educational information and other services only to individuals and institutions that function with non-discrimination with respect to race, creed, color, religion, age, disability, sex, sexual orientation, marital status, national origin, political opinions or affiliations. For more information on obtaining other UF/IFAS Extension publications, contact your county's UF/IFAS Extension office.
U.S. Department of Agriculture, UF/IFAS Extension Service, University of Florida, IFAS, Florida A & M University Cooperative Extension Program, and Boards of County Commissioners Cooperating. Nick T. Place, dean for UF/IFAS Extension.
Coauthors:
Laurie Osgood, Family and Consumer Science Agent, UF/IFAS Extension, Gadsden County
DJ Wiggins, Small Farms Agent, Florida A&M University Extension, Gadsden County
Latest posts by Laurie Osgood
(see all)