When most of us go to the pantry to make a peanut butter and jelly sandwich, we don't think about where the ingredients come from. We all know that peanuts go into the peanut butter and grapes and sugar make the jelly, but what about the bread itself?
There are four main ingredients in any basic bread and its uses and variations are endless. Basic bread recipes usually include flour, water, yeast, sugar.
While working with 4-H youth in a cooking project, why not try to encourage them to make their own variation of plain bread and have some fun?
Some of the many varieties you can bake are: French peasant bread, honey wheat bread and Italian loaf. Click on any of the following links to get great bread-baking tips and recipes to use with kids. Who knows, they may come up with a great variety of their own!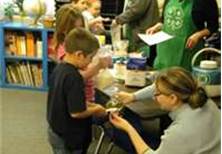 As a volunteer, we encourage youth to develop their own ideas and exert their independence by experimenting within the safety of a 4-H Club environment. Here are some other ideas for extensions of a simple bread-baking activity with youth that incorporate the four essential elements:
Mastery – Have a bread tasting contest and incorporate a skill-a-thon with measurements, tools and ingredients from basic breads to fancy, specialty items.
Gennerosity – Youth can have a Bake-A-Thon or Bake Sale and give all proceeds and products to a local shelter, food bank or food ministry. Students can also make gifts of bread and products that they have made for relatives and other club members.
Belonging – Since all youth like to share their creations, make a collage of pictures of everyone baking and sampling their breads to post to a local website, newspaper or social media page. This is also a great way to raise awareness for local 4-H clubs and their activities.
Independence – Allow 4-Hers to visit a local bakery and ask questions about their business model and how they got started. This allows youth to seejobs and careers related to their interests in the community.
Some other resources are:
http://www.bakingmad.com/kids/getting-kids-interested-in-cooking.
http://www.bakingmad.com/recipes/whitebreads
http://www.perishablenews.com/index.php?article=0018522