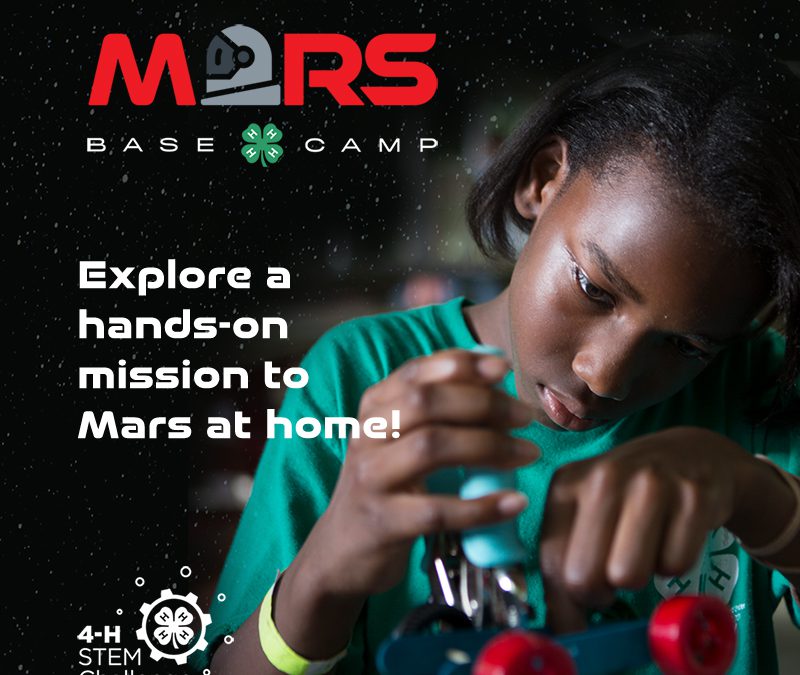 The 4‑H STEM Challenge, formerly known as 4‑H National Youth Science Day (4‑H NYSD), is an event that we look forward to every year. In the past, this has been a single day event but now the 4-H STEM Challenge typically starts October 1 and continues throughout the month and beyond.  This event is designed to ignite a spark in youth so that they take a stronger interest in science, technology, engineering and math through hands-on learning.  For well over a decade, 4-H has developed creative STEM challenges to engage youth in the engineering design process and assist in the development of essential life skills such as critical thinking and problem solving through teamwork.
This year's 4-H STEM Challenge, Mars Base Camp Challenge, was developed by Google and Virginia Cooperative Extension.  The 2020 4-H STEM Challenge is designed for youth to explore the topic of a mission to Mars. The challenge is appropriate for youth ages 8-14.
Mars Base Camp Challenge consists of four activities, each of which relates to at least one of 4-H's core areas:  agriculture, STEM, healthy living and civic engagement.  The four activities can be facilitated separately, together or in any combination, making it flexible to incorporate into your schedule.  In addition, most of the activities do not need any form of technology, allowing for internet-free programming.
Up For The Challenge!
Feeling a little nervous about facilitating it in your club or classroom?  Don't be!  You don't need prior experience with STEM to bring Mars Base Camp to your 4-H program. All the activities have been designed to make it easy for everyone, including teen leaders to facilitate.  Facilitator guides and checklists are available now to assist in the teaching process.  And remember, since we use a guided approach, we give our youth direction and allow them to use their inquiry skills to find solutions through the experiential learning experience!
Mars Base Camp Challenge Resources
4-H has made the 2020 STEM Challenge accessible for everyone.  If you are unable to participate in the Mars Base Camp Challenge through a club or classroom this year, youth can also participate in the challenge by way of a family kit or online.  At this time, the National 4-H website is even offering $5 off each Mars Base Camp kit, thanks to the support of our 2020 national supporter, Toyota! For more information, visit https://4-h.org/parents/4-h-stem-challenge/#!2020-challenge
Online Activity: Youth can participate with INSIGHT FROM MARS, the online portion of the 2020 STEM Challenge.
Educator Kit: Includes materials for 12 youth to participate in the offline activities at the same time. Kits can be used in spaces where physical distancing can be followed.
Family-sized Kit: Includes materials for 1-4 youth to participate in the offline activities at the same time from inside the home.
We hope you enjoy your mission to Mars!  To learn more about additional STEM 4-H programs and events, please contact your local UF IFAS County Extension Office, or visit http://florida4h.org.