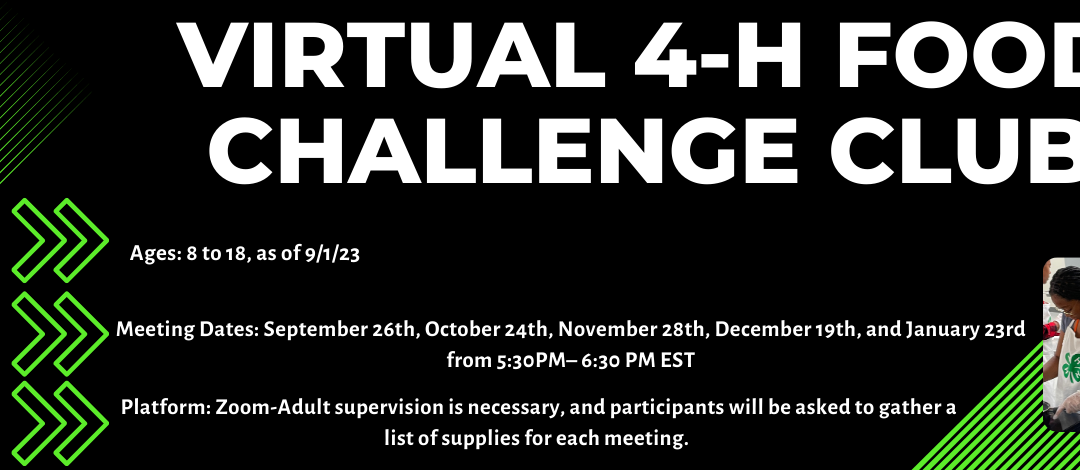 I am so thrilled to let you know about a new endeavor with Florida 4-H. We are trying a virtual Food Challenge cooking club this year. This is so exciting for me because some of my fondest memories are cooking with my grandmother and Mom. I got to learn how to prepare foods and be creative as I was growing up pulling on their apron strings. I also enjoyed teaching and sharing these skills with my own children. What makes this even better is now I get to share and learn with all of you who join our program.
By joining the new Virtual 4-H Food Challenge Club, you will embark on a fun, yet challenging, food-focused adventure right from the comfort of your kitchen! The club adventure will provide a fun atmosphere for you and your children to have a family time experience building lasting memories together. With the help from Florida 4-H Youth Development Faculty, you will get to unleash your culinary creativity and try delicious recipes while learning kitchen skills from safety, nutrition, and other food related life skills. Families will learn about competitive events related to foods like the Florida Food Challenge Competition. Families will also have the opportunity to make friends with fellow 4-H members across the state.
The virtual club is open to youth members ages 8-18 and will meet once a month starting in September. The club will meet via ZOOM on the following Tuesdays: September 26th, October 24th, November 28th, December 19th, and January 23rd from 5:30 – 6:30 PM ET. We request that adult supervision is present with the youth during the meeting and home practice sessions. The participants will be asked to gather a list of supplies for each monthly meeting as we focus on a new skill for each meeting.  
During this course we will help families enjoy preparing food, provide you with opportunities to problem solve together and work as a family team as practice preparation for the Florida 4-H Food Challenge! If you join us, your family will learn how to prepare and create yummy dishes with a predetermined set of ingredients. By the end of the program, your family should have some new recipes for your cooking toolbox, learned essential cooking skills and created wonderful memories from your time together. Do not miss this flavorful opportunity – sign up now via Florida 4-H Online  and get cooking with 4-H! If you are not a member of a current 4-H Club there is a $20 membership fee associated with this club. If you are unable to join our virtual club, contact your local UF/IFAS Extension office to see if there is an active Food Challenge group that you can join. If not, work with your 4-H or FCS Agent(s) to identify two caring adults who could fill this role. 
Enroll, Grab your ingredients, and get ready to join us via Zoom on September 26th@ 5:30 EST